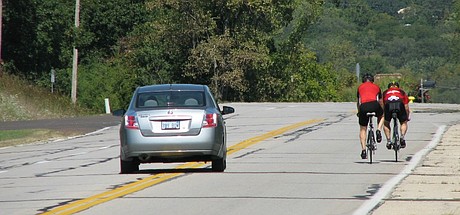 The battle for the right to bike on roadways without being brushed off the road or even hit is a constant one that Shawnee cyclists experience despite efforts by the city to make Shawnee a bike-friendly city. The dangers cyclists face on roadways were highlighted two weeks ago when 62-year-old Steve McCrary was critically injured by a motorist on Shawnee Mission Parkway.
The Office Depot located at 11225 Shawnee Mission Parkway next to 24 Hour Fitness is closing by the end of the year.
Turnovers proved costly for the Shawnee Mission Northwest football team on Thursday evening as the Cougars lost to Olathe East 25-14 in a Sunflower League showdown at the College Boulevard Activity Center.
---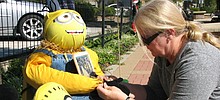 The 11-year Scarecrow Festival tradition brought out hundreds of people to downtown Shawnee Saturday morning, and even more throughout the week as they set up their scarecrows along Johnson Drive.
Marty Augustine is a Shawnee writer and photographer with a background in public safety. Augustine offers presentations related to 9/11, disaster preparedness and personal safety for churches, schools and community groups. Visit MartyAugustine.com for more information.
---
A father of six from Shawnee died on Sept. 29 while working for Union Pacific railroad after being hit by a train, according to police.
The Shawnee City Council approved several changes to the city's Capital Improvement Project list through 2020 that include several road repair projects and storm water system repairs.