Small Business Saturday is back in Shawnee and there are more businesses participating this year than ever.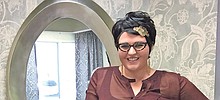 The recent opening of a new salon in downtown Shawnee has one elementary school student pretty excited, says her mom and the salon's owner, Kristi Rodgers.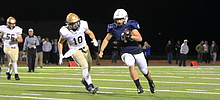 After one quarter of play, the Mill Valley football team found itself trailing St. Thomas Aquinas 7-0 in the Class 5A state semifinals on Friday night. But that's when the Jaguars kicked into high gear, scoring 28 unanswered points on their way to a 45-28 home victory.
---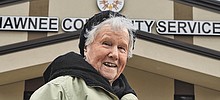 Evelyn VanKempseke did all the little things right and, in turn, made an enormous impact on her community. She loved spending time at Shawnee Community Services, the food pantry and community service organization she founded in 1982, stocking shelves and packing food boxes. She loved being able to help so many people and loved seeing the faces of the people she was able to feed.
Marty Augustine is a Shawnee writer and photographer with a background in public safety. Augustine offers presentations related to 9/11, disaster preparedness and personal safety for churches, schools and community groups. Visit MartyAugustine.com for more information.
---
The Shawnee Police Department is joining other Kansas police agencies, including the Kansas Highway Patrol, in the Kansas Thanksgiving Traffic Enforcement Campaign, beginning today, Nov.23, through Sunday, Nov. 29.
The public hearing on a proposed luxury apartment complex on Pflumm Road north of 62nd Street has been postponed at the developer's request.