Chat with John Segale, Dist. 2 incumbent candidate for Johnson County Board of Commissioners
October 27, 2008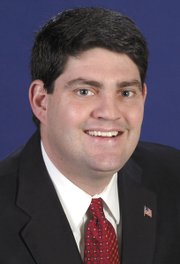 John Segale, who is running for re-election to his District 2 seat on the Johnson County Board of Commissioners, will chat with us at 5 p.m. Oct. 27. Submit your questions for him now, or join the chat live.
This chat has already taken place. Read the transcript below.
Moderator
Hello, and welcome to the Shawnee Dispatch's chat with John Segale, who is running for reelection to his District 2 seat on the Johnson County Board of Commissioners. Now, let's go ahead and begin our questions. I'll kick it off.
October 27, 2008at 6:52 p.m.
Moderator
We'll start a question that was also posed to your opponent: What county government issues do you think District 2 constituents are most concerned about currently?
October 27, 2008at 7 p.m.
John Segale
Well, I think we are all concerned about the state of economy and its impact on our jobs and taxes. The county will be tested in these times because the demands for the human services offered by county government will likely increase. With the good financial stewardship that I have offered I think the county can continue to meet the day to day demands without any property tax increase. In fact I am pledging that I will not increase property taxes unless authorized to do so with a public vote of the people.
Next I think we are concerned about transportation issues related to the capacity of our roads and the alternative transportation that is more economical and accessable to people who can no longer drive. During the past four years I have been working to build institutional cooperation between our cities and county to ensure that we dedicate our existing resources to create a transportation system that meets our needs and we can afford.
I also think that the people of Shawnee in district 2 would like to see the existing shawnee library expanded and a new library constructed in western shawnee. I am the only candidate with a plan for how to pay for these items. A bond election is my proposed method.
October 27, 2008at 7:06 p.m.
Do you feel there are more opportunities for the City of Shawnee and Johnson County to work together and combine resources with a view to achieving a common goal? If so where do you feel there could be most benefit?
October 27, 2008at 2:37 p.m.
John Segale
Yes. I think there are opportunities for all the cities to cooperate and save money while providing the same level of service. In the area of police dispatching I think that Shawnee and all cities could considate the service with the county as presently exists for fire and EMS dispatching. When I was a Shawnee Councilmember I proposed that Shawnee and Lenexa look at considating PD dispatching with an eye toward saving $$ on the new Shawnee police station. In the public safety area there are a number of potentials to save money while still offering exceptional service. But these discussions need to take place in a coopertative and non threatening manner. My experience in transportation will help with this effort. In the end we as tax payers will all benefit from increase cooperation.
October 27, 2008at 7:11 p.m.
Please tell me how you differ from your opponent, where you agree and disagree?
October 27, 2008at 12:12 p.m.
John Segale
Well, first let me say that Jim is a decent fellow and a good public servant. So we are both the same here.
The main difference is that I think elected representatives should be proactive and real leaders. We should be out there stimulating discussion and being imaginative, avoiding problems and positioning the community for future success. I did not see imaginative leadership from Jim when we served together. Since Jim has not critiqued my service in this campaign he must agree with the decisions I have made.
Neither of us is going to go hog wild with a tax increase, although I am the only one making the no tax increase pledge without a public vote.
I don't know that we have a lot of disagreements beyond the proactive dimension that I bring to the job.

October 27, 2008at 7:20 p.m.
Jim Allen says that your answer is always more taxes. Is that true? What is your position on taxes and tax increases?
October 24, 2008at 6 p.m.
John Segale
No it is false. I am not sure why Jim is saying that because he really knows better. I would point out that during my time on the council I was very active in fighting to reduce the mill levy, infact the levy was 23.276 when I joined the council and was 2.441 mills lower when I left. Jim seems to be hung up on the 1 mill increase I supported for the last budget I was on the council. I would point out that even with that increase the levy would have gone down by 1.4 mills during my service. That proposed increase was to avoid the catastrophy that occured in 2006 with the 17% tax increase. I learned from my parents that you have to pay for the things you get. I have a fiscally responsible approach to spending our money.
As I promised before I will not raise taxes without a public vote by the people.
It is also important to understand that Mayors do not vote in budgets, unless there is a tie. I do not recall Jim voting on a budget as Mayor or participating in the committee discussions on the budget.
October 27, 2008at 7:26 p.m.
Moderator
We once again have two readers who asked very similar questions, so I am going to post them both now so Mr. Segale can answer them at the same time.
October 27, 2008at 7:26 p.m.
Mr. Segale: I heard someone say that they thought your opponent would do more to promote Shawnee within the county government. So I asked him this same question: What will you do — and in your case, what have you already done — to promote Shawnee's status in the county?
October 27, 2008at 2:17 p.m.
Jim Allen has a lot more political experience directly serving Shawnee. That may help him better represent Shawnee's interests in the County. What goals will you have directly benefiting Shawnee if you are re-elected? What do you feel you have gotten Shawnee in terms of direct benefits from the County to date? Thank you.
October 27, 2008at 2:42 p.m.
John Segale
There are two dimensions to my answer. But you must realize that district 2 encompasses Lake Quivira and 2/3 of Lenexa. So I must serve all the people of the district along with the greater good of the entire county. We always have to be careful to not appear to favor one area over the other or be too focused on only one city.
I challenge Jim to say where I have failed. Every decision of the commission is made by a majority and must include compromises. I have demonstrated that I am an effective member of the majority.
First, bringing home the bacon. I have been able to win a $1 million commitment toward the purchase of land for a western shawnee library. i also fought for software to better predict EMS calls which will result in a new medact abulance location in western shawnee at the firestation on hedge lane. On the less expensive side I was able to get funds to move the Virginia school house from demolition to a location on the Desoto School property (this got the city off the hook for moving the building). I also worked to support the development of the Shawnee connect bus service.
Big picture, I am always looking for ideas to pass along and information to share with the cities. I regularly communicate with the councilmembers and staff in our cities by email. In the case of Shawnee I suggested that they print the cityline in conjunction with the parks and rec catalog back to front to save money. This was an idea I picked up from another JOCO city when I got their version of our city line.
My greater service to the community in the area of public safety through the jail expansion and crime lab will help everone be safe at home and work.
The county government is a large institution that serves people in a lot of ways that we cannot appreciate until we need the service. I have worked always to make sure that the county operation is efficient and innovative. I learned these things in Shawnee.
October 27, 2008at 7:39 p.m.
Moderator
Well, that's all the time we have for our chat. Thanks to Mr. Segale for giving us his time, and thanks to all of those who submitted questions. We ask that you remember to vote on Election Day, Nov. 4, or take advantage of the advance voting location in Shawnee in the shops on the northwest corner of Shawnee Mission Parkway and Quivira, west of the Price Chopper, which will be open through Saturday.
October 27, 2008at 7:40 p.m.