Chat with Kansas House 18th District candidate John Rubin
October 31, 2008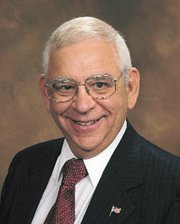 John Rubin is the Republican candidate running for the Kansas House 18th District against incumbent Democrat Cindy Neighbor.
This chat has already taken place. Read the transcript below.
What do you propose to do about balancing the state education budget?
October 31, 2008at 1:36 p.m.
John Rubin
Thanks for your question. Balancing the education budget is part of the larger question of balancing the overall State budget. In both cases, I would seek to analyze what spending is necessary for essential programs and services, and elminate spending on all non-essential budget requests. The savings we can realize by eliminating non-essential spending will not only help to fund essential programs and services, but will aloow us to enact meaningful tax reductions as well.
October 31, 2008at 1:44 p.m.
Can the state afford to continue its current level of contributions to its state worker retirement plan? If not, how would you propose instituting changes?
October 31, 2008at 1:38 p.m.
John Rubin
You're right, funding the state retirement system in this economic downturn is difficult. However, it is important that the State keep its promises to retirees, by fully funding KPERS and other retirement programs and allowing for periodic cost of living increases that keep pace with inflation. As with funding other essential budget commitments, I would seek to continue to fund State retirement programs through cuts in non-essentail state spending, including elimination of waste, duplication and pork in the current State budget.
October 31, 2008at 1:49 p.m.
Should Kansas legalize medical marijuana?
October 31, 2008at 1:45 p.m.
John Rubin
No, I do not support legalization of marijuana, because I believe marijuana use is addictive and can lead to abuse of more dangerous controlled substances. States that have legalized medical marijuana usage have experienced abuses in the program whereby casual drug users are granted access to marijuiana for non-medical purposes.
October 31, 2008at 1:54 p.m.
What's the best way to attract businesses to Kansas?
October 31, 2008at 1:42 p.m.
John Rubin
LOWER TAXES! You may well be aware that, nationally, our corporate tax rates are the second highest of any industrialized nation, and the same can be said here in Kansas. Our individual combined state and local tax burden is 15th highest in the nation as well. We remain non-competitive with neighboring States that have lower corporate and individual tax rates. Once we rein in irresponsible state spending and government sprawl here in Kansas, we can enact meaningful tax reform that will stimulate the economy, spur business growth, encourage new business to relocate here, and create jobs. The increased tax base created by this economic development will result in increased revenues for the State. It has happened every time serious tax reductions have been tried.
October 31, 2008at 2:01 p.m.
Moderator
That's it for today's chat. Thank you to all who submitted questions and to Mr. Rubin.
October 31, 2008at 2:07 p.m.
John Rubin
I want to thank you all for your excellent questions. I look forward to representing you in the Kansas Legislature.
October 31, 2008at 2:08 p.m.