Chat with Shawnee Mayor Jeff Meyers
February 15, 2012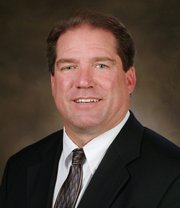 Mayor Jeff Meyers, who is running for reelection, will answer reader questions live from 11:30 a.m.-noon Thursday, Feb. 23, 2012, here at shawneedispatch.com. We encourage you to submit questions in advance, and tune in again Thursday morning to chat more and read Jeff's responses. The Feb. 28, 2012, primary election will narrow the field of candidates for Shawnee mayor from three to two. The winners will face off April 3 in the general election.
This chat has already taken place. Read the transcript below.
Moderator
Hi everyone, this is Sara Shepherd, news editor here at The Dispatch. Thanks for joining us today for our live-chat with Shawnee Mayor Jeff Meyers. Jeff faces two challengers in next week's primary election (on Tuesday, Feb. 28). The two top vote-getters will advance to the general election. We have a few questions lined up already, so I think we'll go ahead and get started!
February 23, 2012at 11:23 a.m.
Moderator
Our first question, from 'mrribs,' is regarding city spending and debt.
February 23, 2012at 11:23 a.m.
Do you think Shawnee is spending too much and has too much debt? If Shawnee has too much debt what project funded by the debt would not have occurred?
February 16, 2012at 10:29 p.m.
Jeff Meyers
We are fiscally sound. I do not feel our debt is too much. We have seen an upgrade in our bond rating twice during this term. That does not occur when a city's debt is too high.
February 23, 2012at 11:27 a.m.
Moderator
The next two questions address the city's franchise fees.
February 23, 2012at 11:28 a.m.
Before the recession in your first term property taxes increased 17%. In the last two years you imposed a new tax on our gas and electric bills more than equal to a 25% increase in property taxes and our streets and sidewalks have fallen into disrepair, so why should we elect you for a third term?
February 20, 2012at 8:07 p.m.
Jeff Meyers
The mil levy increase was 3.6 mills. During my tenure on the Council I voted for and it was approved 3 times to decrease the mill levy by 3.6 mills. We have been in tough economic times which caused us to either raise revenue or reduce what I felt were crucial services such as police and fire protection among other possible services. I do not believe our sidewalks and streets have fallen into disrepair but we did have to delay our Mill and Overlay program for 2 yrs. That was a major factor in needing new revenue which was brought about by the franchise fee. We still need more revenue for street maintenance which requires approx. $6 million a year with our current policy. That is why the negociated agreement with Deffenbaugh was so important because we are going to recieve $3 million a year for the next 30 yrs. I should be elected because of my successful experience in leadership and people know I am honest and trustworthy.
February 23, 2012at 11:41 a.m.
Mr Mayor, Can you please tell me why we cannot reduce or eliminate the tax on my gas and electric?
February 21, 2012at 11:30 p.m.
Jeff Meyers
Our revenues need to meet our expenses. As I said earlier street maintenance alone requires approx. $6 million a year. We would have to drastically cut services. 55 cents out of every general operating dollar is spent on fire and police. My number one priority is to keep residents safe. I do not want to cut our safety services. I believe the services the City currently provides are services residents expect.
February 23, 2012at 11:46 a.m.
Moderator
Another question from 'jamesnshawnee', regarding partisanship.
February 23, 2012at 11:47 a.m.
In an ad Mr Jenkins says you are a Democrat. What do you think about partisan elections for the Shawnee City races? What does this ad say about you and Jenkins?
February 22, 2012at 9:42 p.m.
Jeff Meyers
I do not believe partisan elections have a place in local government. Pot holes don't get fixed by republicans, democrats, or any other party. I just want what is best for my community. He seems to be extremely party oriented and I don't want to see what goes on at the State level or Federal level happen in our community.
February 23, 2012at 11:51 a.m.
Mr. Mayor, what types of things would you like to see the city of Shawnee to do in effort to attract more small businesses to the city and encourage all businesses, of all sizes, to stay and grow in Shawnee?
Both of your opponents say that if elected, they would repeal the Utility Tax. Have you changed your mind about this tax or do you believe it is still necessary for Shawnee and should remain in place?
February 23, 2012at 11:47 a.m.
Jeff Meyers
The utility tax is needed if we want our current services. I have not changed my mind on it. We have a population of 62,000. Our budget is approx.$79 million. Our niehbor Lenexa has a population of 45,000 and a budget of $103 million. We do more with less but I believe cutting another $3 million dollars cannot happen without putting us in a drastic reduction of services. We have been working hard at preparing ourselves for when the economy is going to turn for Shawnee. I think the time is now. We have economic tools to help attract business. We have had success in retaining businesses in Shawnee. We promote our great location, excellent schools, diverse housing options, great parks and recreation programs,and are fiscally sound. We have something for everyone. We have a great staff that is knowledgable and professional. We are a community that is friendly and has that small town charm yet a great place to do business.
February 23, 2012at 12:06 p.m.
Moderator
Looks like our time is up, so we'll go ahead and wrap this chat. Thanks to Mayor Meyers for joining us, and thanks to the readers who shared questions and tuned in for the conversation! Watch www.shawneedispatch.com for primary election results Tuesday night, as well as coverage leading up to the April 3 general election, which will feature the mayor's race plus four City Council races.
February 23, 2012at 12:06 p.m.
Jeff Meyers
Please feel free to contact me for more in depth answers.
February 23, 2012at 12:07 p.m.