Chat with Ward I Council member Jim Neighbor
February 28, 2012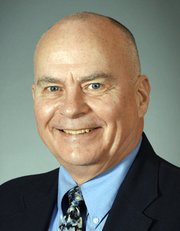 Ward I City Council member Jim Neighbor will answer reader questions from 10-10:30 a.m. Wednesday, March 7, 2012, here at shawneedispatch.com. We encourage you to submit questions in advance, and tune in again Wednesday morning to chat more and read Jim's responses. Neighbor faces one challenger, Charles Macheers, in the April 3, 2012, general election.
This chat has already taken place. Read the transcript below.
Moderator
Good morning! This is Sara Shepherd, news editor here at The Dispatch. Jim Neighbor is here in the office for his online chat. Welcome, Jim!
March 7, 2012at 10:03 a.m.
Jim Neighbor
Good Morning
March 7, 2012at 10:04 a.m.
Moderator
I'm going to start with a question for Jim. A number of residents and business owners supported creating a Community Improvement District at 10 Quivira Plaza. There's also a number of residents who strongly opposed it. Can you describe your reasons for supporting the move?
March 7, 2012at 10:06 a.m.
Jim Neighbor
The CID is an important economic development tool available to Shawnee. The ow
ners of the Center, with his tenants requested the establishment of a CID for them to improve their Center, and their businesses. The CID was established In 2010. This will allow the Center to improved its appearance, attract new businesses, and improves tales and property taxes paid to the
City.
March 7, 2012at 10:14 a.m.
Moderator
Thanks, Jim. Your ward includes some of the city's older neighborhoods, in east Shawnee. With housing stock aging, what does Shawnee need to do to continue attracting new residents and families to the older parts of the city?
March 7, 2012at 10:17 a.m.
Jim Neighbor
The City is evalating the Extension of the Kansas Neighborhood Redevelpment act. This program has been in effect for 10 years, and is responsible for much of the redevelopment on the downtown Shawnee area. Basically if a resident or business wants to make an inprovement to their property, a portion of the addition property tax on the new part is abated for a period of time, and refunded to the owner. Going forward, with the regreening of some of the older parts of Shawnee, new families, as they purchase the older homes will be able to make improvements for growing families, and get a rebate on the tax for the improvement. A portion of the refund is kept by the city to administer the program, and to issue grants to the users.

March 7, 2012at 10:26 a.m.
The Johnson County Landfill is in your ward. Do you agree with the city's decision to allow the landfill to operate until 2043, instead of the earlier predicted closing date of 2027?
March 7, 2012at 10:28 a.m.
Moderator
OK, we have one final question from Chris on Twitter (@bballkansas). He asks: "Roundabouts good or bad? Plus can we get some artifical turf soccer fields like Overland Park?"
March 7, 2012at 10:43 a.m.
Jim Neighbor
Yes. Deffenbaugh approached the City asking for an extension. the landfill was not filling as rapidly as originally projected, due to the downturn in the economy, reduced construction, and increased recycling. They projected an increase of 15 years to 2043. They also agreed to an increase in impact fees from 600,000 to $3MILLION A YEAR , OR ABOUT $100MILLION for the extension. This gives Shawnee a substantial non-tax revenue stream going forward. These revenues will be used at the discret
ion and review of the Governing Body, but at present $1 million will go to getting our infrastructure, roads, sidewalks, etc, back on schedule form the delay caused by lack of funds from the recession. Also an Economic development fund has been established to help Shawnee attract new business, and retain and improve existing business. It can also be used to leverage grant funds, and revenues from state and national sources to create the infrastructure in some of our open spaces to attract development.
March 7, 2012at 10:43 a.m.
Jim Neighbor
Roundabouts. They are probably going to be a fact of life in the future. They slow down traffic, and eliminate the need for traffic lights and the subsequent maintenance expense. They're hard to get used to. For a more in depth answer, I'd refer you to the City Traffic engineer.
Artificial turf for soccer. While Shawnee has lots of parks that are well used, there has not been any discussion of artificial turf on soccer fields. It might happen at some time, but at present there are much more pressing issues, mill and overlay for roads, infrastructure repairs, and economic development that will use the resources we have available.

March 7, 2012at 10:58 a.m.
Moderator
With that, we'll go ahead and wrap up our chat. Thanks to Jim for participating, and thanks to readers who joined us to see where he stands on the issues. The general election is April 3. Until then, stay tuned to shawneedispatch.com for coverage of Ward I, plus Shawnee's three other city council races and the mayor's race.
March 7, 2012at 10:58 a.m.