Engagement
Eckelman and Minton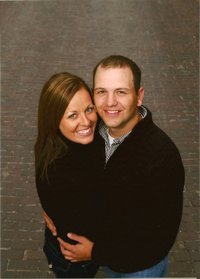 Rhonda and Joel Eckelman of Shawnee announce the engagement of their daughter, Erica Eckelman, to Lee Minton.
The bride-to-be is the granddaughter of Peggy and Mike Blanding, the late Norris Herbel and the late Harold and Mary Eckelman.
The groom is the son of Christine Whitehead of Wichita and Darrell Minton of Abilene, Kan., and the grandson of Beverly Robinson and Bill and Connie Minton.
The bride-to-be is a graduate of Mill Valley High School in Shawnee and of Kansas State University in Manhattan, Kan. She teaches fifth grade at Prairie Ridge Elementary in Shawnee. The groom is a graduate of Herington, Kan., High School and a December 2007 graduate of Kansas State University.
The wedding will be July 26, 2008, at Trinity Lutheran Church in Mission. The reception will be at The Madrid in Kansas City, Mo. The couple will make their home in Lenexa.