Engagement
Beck and Brown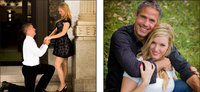 Mr. and Mrs. Alan and Mary Beck are excited to announce the engagement
of their daughter, Charlotte Lea Beck to Dr. Richard Brown, son of Joseph and Carolyn Brown.
The bride elect is the daughter of Alan and Mary Beck of Atchison, Kansas. She is a 2009 graduate of Faith Academy and received her Associates of Arts and Nursing Certificate from Highland Community College. She is currently working as a nurse in Independence, Missouri.
The prospective groom is the son of Joseph and Carolyn Brown of Shawnee, Kansas. He graduated from Shawnee
Mission Northwest High School. He finished medical school at the University of Kansas, specializing in internal medicine. He is employed at Horton Community Hospital.
Charlotte Lea and Richard will wed Friday June 6, 2014 at Eventful in Weston, Missouri. The couple plan to reside happily ever after beginning in Lenexa, Kansas.