Benefit race draws barefoot runner
The soles of Rick Roeber's feet don't appear as callused as one might expect.
They were smeared with dirt but otherwise pretty average Saturday morning at Mill Valley High School, where Roeber, 49, was among more than 900 participants signing in for Shawnee's second annual Run for Mercy.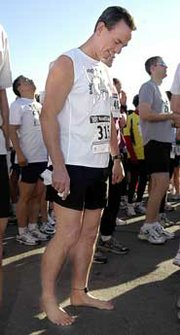 But looks can be deceiving.
Roeber's feet have developed enough leather to run 60 miles a week, mostly on pavement, with no shoes. He's completed seven marathons barefoot and plans to repeat the feat at the upcoming Boston Marathon on April 18.
Run for Mercy's 3.1-mile course was going to be a piece of cake for "Barefoot Rick."
Roeber, who lives in Lee's Summit, Mo., said he's usually training for marathons and bypasses a lot of shorter, local races. But at the request of some of the organizers, he made an exception for the Shawnee race, a fund-raiser for the locally founded Oceans of Mercy Children's Village.
"I like to run for causes," Roeber said. "It puts a little purpose to your feet."
Before most of his marathons, Roeber collects per-barefoot-mile pledges to raise money for a cause in his hometown. Soles for Souls, an effort he started, raises money for underprivileged children at Lee's Summit Elementary School.
Roeber had been running marathons for more than 10 years before, frustrated by injuries and chronic knee pain, he started experimenting with the barefoot method in 2003 and never turned back.
He says barefoot running is better because it's more natural.
God designed feet to run on their own, Roeber said. They form protective calluses, and an arch, along with hundreds of bones and muscles, is designed to absorb shock and hold up a person's weight.
Strangely, the natural technique is just the opposite of shod runners' style.
Keeping the knees gently bent and tucking the hips forward, barefoot runners stride with their weight shifting from the front of the foot to the back -- ball-heel, ball-heel.
"It's kind of a cross-country skiing-type thing," Roeber described, unlike the heel-ball-toe motion for which modern wedge-heeled running shoes are designed.
A barefoot runner can't help but be in-touch with the running surface.
"I think grass feels great, but then you get sloppy," Roeber said. "Pavement forces your technique."
Along with pavement, however, comes pesky pebbles or other foreign objects. Those, Roeber says, must be watched for like a hawk and circumnavigated accordingly.
In full-stride barefoot technique, Roeber glided across the Run for Mercy finish line in 20 minutes, 9 seconds, good enough for a personal best in the 5K and eighth in his age category.
He said Run for Mercy, in only its second year, drew a bigger crowd than he expected when he first heard about it.
"I thought I might be able to place today," he joked before the race.
When South Africa native Mike Ockleston belted out a rooster crow for the start -- a tradition quoted from the Comrades Marathon, South Africa's biggest road race -- more than 900 runners left the starting line in the Mill Valley parking lot.
Run for Mercy is one of the biggest fund-raisers for the Oceans of Mercy Children's Village, a charity founded by County Club Cafe owner Schaun Colin, a native of South Africa.
Colin said he was thrilled to see the race grow from last year.
"This is a godsend," Colin said. "The community is really jumping behind it again."
Besides contributing entry fees to the cause, Run for Mercy organizers also made available small signs for runners to pin on that showed faces of individual South African children who would be helped.
"Nwabisa, age 9," "Lihle, age 1" and "Sinoxolo, age 11," all with photos, were just a few of young South African faces that peppered the backs of Shawnee runners.
"We want the people that are participating in this event to know they are helping real children," Colin said.
Along with a group of 15 other Oceans of Mercy representatives from the area, Colin left Sunday for a 17-day stay in South Africa that will see a milestone event for the charity.
On April 14, he said, the first Oceans of Mercy orphanage will be dedicated and its first residents will move in.
Run for Mercy 5K Run/Walk results
Saturday, April 2, Mill Valley High School
Overall winners
1. Matt Poulsen, 17:57; 2. Theo Feltz, 18:28; 3. Aron Fast, 18:28; 4. Stan Wood, 18:32; 5. Don Turner, 18:43; 6. Gregg Stephens, 19:19; 7. Dan Webster, 19:26; 8. Jeff Whitecotton, 19:30; 9. Lisa McClain, 19:32; 10. Sean O'Grady, 19:48
Men
Ages 9 and under -- 1. Reagan Wood, 26:24; 2. Eddie Flag-Butler, 27:31; 3. Connor Berg, 27:55; 4. Alejandro Carlos, 30:15; 5. Eric Howes, 35:14
Ages 10-14 -- 1. Nicholas Cardiff, 21:05; 2. Kyle Schlicht, 21:12; 3. Mark Newberry, 21:35; 4. Jonny Hodges, 23:05; 5. Matthew Straub, 23:30
Ages 15-19 -- 1. Greyson Escareno, 22:46; 2. Jeff Schuman, 23:00; 3. Harold Kanatzar, 29:48
Ages 20-29 -- 1. Matt Poulsen, 17:57; 2. Aron Fast, 18:28; 3. Jim Alpiser, 19:54; 4. Greg Chance, 20:48; 5. Matthew Severns, 22:21
Ages 30-39 -- 1. Theo Feltz, 18:28; 2. Sean O'Grady, 19:48; 3. Devin Wilson, 20:00; 4. Doug Heinen, 20:04; 5. Michael Thomas, 20:05
Ages 40-49 -- 1. Stan Wood, 18:32; 2. Gregg Stephens, 19:19; 3. Dan Webster, 19:26; 4. Jeff Whitecotton, 19:30; 5. Brett Berger, 20:02
Ages 50-59 -- 1. Don Turner, 18:43; 2. Louis Radice, 22:07; 3. Ronald Byron, 23:17; 4. William Haefele, 24:08; 5. David McKibben, 25:00
Ages 60-69 -- 1. William Bond, 22:13; 2. Bill Hale, 30:04; 3. Russ Hayden, 34:58; 4. George MacGregor, 35:42; 5. Steve Davis, 45:36
Ages 70-79 -- 1. Roy Hicks, 26:04
Women
Ages 9 and under -- 1. Allison Heinen, 36:31; 2. Cheyenne England, 37:07; 3. Megan McCulloch, 37:20; 4. Maria Vannicola, 43:09; 5. Chloe Stewart, 43:15
Ages 10-14 -- 1. Lauren Gessner, 22:06; 2. Beth Reichenberger, 24:17; 3. Katie Williams, 26:35; 4. Brianna Wood, 26:52; 5. Kelly Gessner, 28:37
Ages 15-19 -- 1. Amy Gray, 21:03; 2. Jessica Mehsikaner, 24:05; 3. Lia Hardy, 26:52; 4. Lana Keltner, 32:02; 5. Erin Cook, 39:34
Ages 20-29 -- 1. Kristin Carbullido, 20:22; 2. Larissa Butler, 21:25; 3. Leah Heinauer, 22:20; 4. Lindsay Severns, 22:55; 5. Amanda Stanley, 23:05
Ages 30-39 -- 1. Lisa McClain, 19:32; 2. Carla Wilson, 24:20; 3. Suzette Downing, 24:24; 4. Tracey Seib, 24:29; 5. Jill Roush, 24:29
Ages 40-49 -- 1. Carolyn Marney, 22:39; 2. Kathryn Kersting, 23:11; 3. Colleen Vannicola, 23:26; 4. Michon Quick, 23:36; 5. Julie Worthington, 23:40
Ages 50-59 -- 1. Karon Way-Turner, 25:28; 2. Kim Chappelow-Lee, 28:36; 3. Betsy Stolecki, 33:27; 4. Kathy Ray, 40:13; 5. Elizabeth Hayden, 42:30
-- Results provided by Mid-America Running Association, www.mararunning.org