The changing of the guard
Reality of change hasn't quite sunk in for new city manager
It's been just about a week, and it still hasn't quite sunk in for Carol Gonzales that she is now officially managing the city of Shawnee -- that Gary Montague, Shawnee's city manager for 28 years, is gone, and she has become the "head honcho."
"It hasn't quite been long enough," Gonzales said. "And although Gary took very little time off, there were periods of time where he was gone for a little bit and I was in charge, so it still feels like that."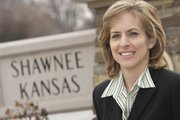 Contributing to that feeling is her location; she has been so busy during her first week in the position that she is still in the deputy city manager's office in City Hall's west wing, rather than in Montague's old east-wing office.
The transition is going as smoothly as can be expected, however; Gonzales and Montague worked together to prepare for this day for some time. Gonzales isn't facing an easy first year in her position, with big projects like the city's Justice Center scheduled to get under way and a tough budget process. But the position is one she has been working toward for her entire career.
Gonzales was born in North Kansas City and spent much of her early childhood in Clinton, Mo., before moving back to the farm her family has owned since the mid-1800s outside of Kearney, Mo.
Gonzales' family was active in their church, and her father worked for Kansas City Power and Light, factors Gonzales thinks may have geared her toward a career in public service. But when she began attending Drake University, she still wasn't sure what she wanted to do.
Gonzales began in Drake's business school, but in her second year, she began to have second thoughts. She said she wasn't having much fun in the upper-level math courses that the business school required, however, she was enjoying the "people" aspect of an elective sociology course she was taking.
"That was when it turned to a people-oriented, public service kind of focus, but I still wasn't sure what I was going to do with it," she said.
It wasn't until her senior year, when Gonzales decided to try the introductory public administration course, that she found her niche.
"I thought, there's a lot about this that fits for me, about public service and working with people and working in a government environment," she said.
An internship with state of Iowa while at Drake showed Gonzales that upper-level government was not for her, and she wasn't quite sure where to go after graduating with degrees in economics and sociology until she talked to several family friends in public service.
They directed her to the man in charge of the public administration master's program at the University of Kansas. With his encouragement, she enrolled in the MPA program.
"About halfway through the first class at KU I started thinking that I had really fallen into the right thing," Gonzales said. "It was just a great fit, because I want to help people ... the local government niche was just a fit in a whole lot of ways for me."
At KU, Gonzales interned for city of Olathe and then worked in Emporia for two years. When her future husband was transferred to California, she found a position in Sealbeach, Calif.
Another transfer brought her husband back to the Kansas City area in 1989, and Gonzales found a position in Lenexa, where for nine years she served as management services director.
But there wasn't an opportunity to move up in her career, and with three small children, she knew she wanted to stay in the area. Shortly after buying a new house in Shawnee, she heard about the city's opening for assistant city manager.
The position was perfect in many ways: Gonzales knew Montague through the KU MPA program's alumni association, she already lived in Shawnee and her job would be right down the block from St. Joseph's Grade School, where her eldest child attended daycare.
"It was a good click from the beginning," Gonzales said. "And I left the interview thinking 'how could I be so lucky?'"
Gonzales said the culture of the community and the city's organization was also a perfect fit.
"My goal is to have a career that I feel challenged with, and I'm doing something meaningful in a place that is best for my family," Gonzales said. "Which is why Shawnee is so wonderful -- it's such a great place to raise a family."
Working with Montague over the last seven years, Gonzales said she hopes to carry on two Montague trademarks in particular. The first is to maintain an efficient organization, providing citizens a high quality of life relative to the taxes they pay.
The value is something that was not only Montague's, but one established in the community by the farming family who founded Shawnee, she said.
"People just have a real practical approach to things, and Gary had that same approach to managing the city," Gonzales said. "And it's not easy, but I know that's important to the community and something I hope we can carry on."
Another trademark that Gonzales wants to continue is keeping a positive rapport with City Council members and city staff, making City Hall a fun place to work.
Following Montague isn't Gonzales' only challenge. First and foremost, she'll have to find her replacement. This likely will be several weeks away, however; Gonzales wants to look at moving some functions around in City Hall and is currently seeking feedback from each city department.
"It's a big change having Gary gone," she said. "We need to look at all the talents and skills we have internally and what we're missing, or what would best enhance the organization and have the greatest impact -- make sure we know what things we're looking for."
The biggest challenge Gonzales expects to face in her first year, however, is preparing the city budget.
"It's tight," she said. "It's going to be a difficult budget year. We're going to look not just at this year but several years out. The Council members are going to have to make some hard choices."
Gonzales said balancing capital needs and infrastructure will be hard because of the amount of money it will take to complete several projects. Raising the mill levy will certainly have to be discussed, but Gonzales said it's ultimately the Council's decision of priorities -- which projects must be done first.
"I'm afraid we're really going to have to slow (planned projects) down some," Gonzales said. "The major goal of the Council for this year and the next year is the business development. If we can be successful at that, bringing businesses to Shawnee and diversifying our tax base more, that will help with that financial picture. But all of those kind of things have to come together."
°