Youth wants to build arena as Eagle project
When Shawnee students were spending the summer playing videogames, Monticello Trails Middle School eighth-grader Reid Chapman was busy collecting donations.
Reid, who is a member of Boy Scout Troop No. 351, raised around $6,000 for his Eagle Scout project, called the "Character Counts" arena. The structure, which he plans to build on the Mill Valley High School campus, would encompass a 60-foot diameter gathering area within its 10-foot tall columns. Imprinted on each one, Reid said, would be the character traits taught diligently at De Soto schools: trustworthiness, respect, responsibility, fairness, caring and citizenship. He hopes it will serve as both a community gathering place and a home to school functions long after he has graduated in 2011.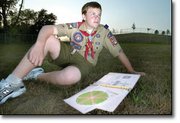 Bob Chapman, Reid's father, said he encouraged his son to do something extra special for his Eagle Scout project.
"When it came time for him to pick an Eagle Scout project, we told him he needs to do something that challenges him," Chapman said.
He said that because Reid has already done community service projects, Chapman wanted his son to do more than a landscaping project.
Reid said he was inspired to begin the project for his "Change the World" project in Chris Dunback's class last year. With advice from Mill Valley Principal Joe Novak and Prairie Ridge Principal Randy Doerksen, Reid decided to construct the arena on school district property for use as a teaching tool. Administrators plan for the arena to be built near the Mill Valley football field after this year's season in November, but Reid said that would depend on the weather.
Reid has talked to architects, the Shawnee Area Chamber of Commerce and dozens of businesses to plan his project. He estimates that the project will cost around $8,000 to $10,000. The Mill Valley Booster Club recently donated $1,000 to help his cause. The Prairie Ridge, Clear Creek and Monticello Trails parent groups also donated $500 apiece.
Aside from making cold calls to businesses, Reid is also selling dedication bricks that will be laid across the arena project. The smaller bricks are $50, the larger bricks are $150, plaques are $500 and benches with inscriptions are $1,000.
"The biggest obstacle is really getting the word out," he said.
Reid said he had lots of help from Kathleen Whalen, Chamber Ambassador at Whale Spout Car Wash, in helping to find businesses that would support the project. He's even found a few contractors willing to donate labor for the arena. He's visited with the Shawnee Parks and Recreation Department and area construction firms, but is still looking for a general contractor to sponsor the project.
"He's been going door to door since June," Chapman said. "It's been interesting. Some businesses you would have thought would support it and they didn't."
But that doesn't seem to bother Reid. He keeps calling and re-calling anyone he can think of who might support the project.
"I can't wait until it's done, so I can get back to doing kid stuff," he said.
He's already arranged to have either volunteers or contractors complete the more dangerous work of lifting the 2,400-pound columns in place or doing the digging, but Reid said he expects to do the bulk of the work.
"He's asking for the help of the community," said his mother, Millie Chapman. "The whole thing that's great about the bricks is that over time, families will be able to go back and find their names, or their loved ones' names, and know they were a part of something special."
When the project is finished, it will be accompanied by a booklet on Reid's motivation behind the project and the support he received.
Reid said he plans to set up a table at Mill Valley's football games to raise the remaining funds for the project. For more information, e-mail ccarenaproject@kc.rr.com or call 441-2624.
More like this story