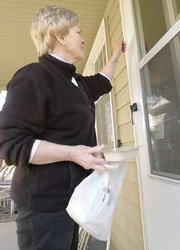 Dorothy Brown doesn't let being homebound stop her from helping her community.
The 83-year-old Merriam resident calls her list of Meals on Wheels volunteers each week to make sure they're delivering on time.
"When somebody does something for you, you return the favor," she said.
Brown has herself been a recipient of the Johnson County Area Council on Aging's Meals on Wheels program for years. When the organization needed someone to oversee volunteers in the Shawnee/Merriam area, Brown was glad to volunteer. Although the volunteers she calls don't deliver to her, their route helps bring meals to nine elderly citizens in Shawnee and Merriam.
"She's very dedicated," said Elvina Kroemer, Meals on Wheels coordinator. "It helps the volunteers to have someone call them. I think only one time someone has forgotten, and they were just a little late."
Brown even continued her service to the Meals on Wheels program while spending a month at Sharon Lane nursing home to heal from surgery. All she needs is her phone, she said, and her list of volunteers from the Merriam Christian Church.
"I wasn't able to go up the steps, so I can't deliver them myself," she said.
Brown said she appreciates the meals she gets as well. Each meal comes sealed with nutritionally balanced diets. Senior citizens who are over 60, a Johnson County resident and unable to drive can are eligible for a meal for a suggested donation of $2.55, but no one is turned away for inability to pay. Shawnee and Merriam residents who are able to get out of the house come to the Merriam Community Center for their lunches via Easy Ride or Catch-a-ride.
Doris Washburn, another Merriam resident, said she gets much better meals than she would if she cooked them herself.
"It's not a lot of rich food," she said. "It's a balanced diet. I just can't cook anymore. I haven't lit the stove in five years."
Washburn said the only time she cooks is when she makes eggs in the microwave. She has trouble getting out of the house and depends on her meals.
"I've lost 20 pounds in the past three years, which isn't a lot, but I attribute it to the unenriched, balanced meals I get from Meals on Wheels," she said.
Washburn always gives volunteers who visit her a Hershey Kiss as they leave her house as a "thank you."
Each day, the entire Johnson County Meals on Wheels program gives 117 meals to elderly residents. Routes go throughout the county, but Kroemer said more are needed in the Shawnee area.
Mary Avila, cook at the Merriam Civic Center, makes dinners each day for the residents in Shawnee and Merriam. She makes sack lunches, diabetic dinners and special "blizzard" boxes for days the meals on wheels program can't deliver because of heavy snowfall. Those boxes are already at the residents' homes and usually contain soup, crackers, juice and other items that are non-perishable.
"The food has to keep cold and hot and the proper temperatures to be safe," she said.
The dinners are even packed in special coolers to keep them warm or cold until delivery time. Residents who are able to make it to the center can have a choice between two entrees; those who receive meals on wheels at their home get the items named on the menu. An example of one day's menu is chicken tetrazzini and noodles, vegetables, whole wheat bread and pineapple-upside-down cake.
Carole Prentice, volunteer with the Merriam Christian Church, said she looks forward to delivering the meals. She also does a route with the Shawnee Rotary Club.
"You get to know some of the people, and they are so thrilled to see us," she said.
For information about volunteering with the Meals on Wheels program, contact Vicky Owens, Johnson County Area Agency on Aging Council volunteer coordinator, at 913-477-8174.