Home preserves memory of long-gone family
The small, white farm house tucked in among the buildings of Shawnee Town will be 130 years old next year.
Half of the building, originally located on the northeast corner of Quivira Road and 75th Street, broke off in transit to Shawnee Town in the 1970s and could not be saved. But the Hart Home is one of the most recognizable buildings in the outdoor museum and a favorite of many children who visit Shawnee Town.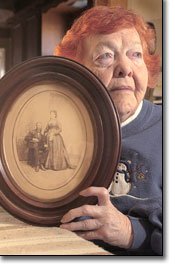 Most of all, the home has helped preserve the name and history of its builders, Joseph Scudder Hart and his wife, Wilhannah.
The Hart name has disappeared from the Shawnee population, but the Harts' great-granddaughter, Clena Wilson, has carried on her family's history.
Patriotic lineage
The Harts first moved to Shawnee in 1877, but their family history goes back much further, both connected to the Scudder family.
The first Scudder moved from England to Salem, Mass., in 1635, and three generations later, around 1700, his descendents moved to New Jersey. The Hart family also came from England, ending up in New Jersey by 1700; Joseph's great-great-great-uncle, John Hart, signed the Declaration of Independence.
Wilhannah Hart's maiden name was Scudder, and her great-grandfather, Amos Scudder, was a guide for George Washington in the Revolutionary War. Another great-grandfather was a major in the Continental Army.
Joseph Hart's great-grandmother also was a Scudder, and she named her son Joseph Scudder Hart. Joseph was then named after his grandfather. Wilson said both Joseph and Wilhannah's families had a long history of patriotism; the Scudder homestead was used to care for injured soldiers during the Revolutionary War.
Both Joseph and Wilhannah went to college before getting married in Scudder Falls, N.J., in 1869. Joseph worked on his father's farm for seven years before coming to Shawnee.
Joseph Hart came to Shawnee after falling in love with Kansas.
"He came out and went hunting," Wilson said. "We've got a buffalo robe up in the attic from a buffalo he killed."
The Harts moved to Shawnee against Wilhannah's better judgment, however. Wilson said the families were well-to-do in New Jersey, and moving to Kansas was a big change. But once they got here, Wilhannah found a friend in a neighbor, Mrs. Zahner, who gave her a poplar tree.
"She told her 'You plant this tree and your family back east will be able to see where you live,'" Wilson said.
Life in Shawnee
The Harts moved to Kansas with their two daughters: Julia, 4, and Wilson's grandmother, Jennie, 2.
Wilson said her great-grandparents took a train to St. Louis and then a riverboat to Kansas City, living with Wilhannah's sister, Margaret Green, in Kansas City, Kan., and then rented a home in Merriam. Margaret Green's husband, John Green, was a home builder and built the Hart house on 100 acres at 75th and Quivira.
Once they were settled in, Wilson said her great-grandfather quickly became known for his produce in the Kansas City markets. He would hop a train at 75th and Antioch to sell vegetables, eggs, grapes, turkeys and honey in the Kansas City Market and to Wolferman's Grocery.
"With the advent of the automobile, stands set up at the Hart farm became a popular shopping place," Wilson said. "The farm was known as Hart's Corner. Many of the customers became friends and continued to visit them after they left the farm."
Wilson said her great-grandmother's first priority was to find a church, and the family soon began attending Antioch Church at 75th and Antioch, traveling by horse and buggy. They attended the church for nearly 50 years before moving into town in 1926, when they started attending Shawnee United Methodist Church.
Julia and Jennie Hart attended Little Blue School at what is now 85th and Quivira in Lenexa. Wilson's grandmother told her once she was instructed to stop at a house on the way home from school where a little boy had the mumps.
"It was believed it was better to catch a disease when you were young and get it over with," Wilson said. "She went in and sat by his bed for a while, but she did not get the mumps."
The Harts were well-known to their neighbors, families like the Zahners, Chaces, Watsons and Switzers. When they moved into town and celebrated their 60th wedding anniversary, the Olathe Mirror's editor wrote that "we found them surrounded by friends, many of them of a lifetime. Such a dear, old couple."
A strong woman
Wilson's grandmother, Jennie Hart, married John W. Jones, who had arrived in Shawnee in the 1880s and farmed land at 69th and Nieman Road.
His first wife had died, leaving him with two daughters, and he married Jennie in 1898, shortly after he was elected Johnson County Sheriff. They had a son, Fremont Jones, Wilson's father, and John went on to be a Johnson County Commissioner.
Julia Hart married George Archer, the son of the Archers who owned a general store in downtown Shawnee. They had five children who lived to adulthood, but none of Julia's descendents still live in the area.
Jennie served not only as grandmother but as mother to Wilson. Wilson's mother died while giving birth to Wilson and her twin brother, so Jennie took in her grandchildren.
When Wilson was 9 years old, her grandfather Jones died. Then her mother, Wilhannah Hart, died in 1930, just a year later, and her sister, Julia, died in 1931. Jennie and her grandchildren moved in with Joseph Hart.
"Although we had a live-in nurse, a lot of responsibility fell on her shoulders," Wilson said. "I never heard her complain. She had so much love and strength for everyone."
The Hart Home's rebirth
Though her grandparents sold the farm and moved into town when she was just 6 years old, Wilson remembers visiting them at the Hart house.
"I remember the big kitchen, the big table and big family dinners," Wilson said. "The parlor -- I'd go in there and look around, but nobody ever went in there."
The room currently representing the kitchen was once the sitting room; the kitchen was on the back of the house, the portion that fell off in 1976. Wilson remembers going upstairs, seeing Jennie's room on the left, Julia's room on the right and her great-grandparents' room straight ahead, over the kitchen.
She also remembers eating fresh honey from her grandfather's bee hives and the wildflowers growing next to Quivira.
"There were wild roses growing on that terrace -- that's the one thing I remember most about that house," Wilson said.
Wilson is somewhat responsible for her great-grandparents' home being saved with its move to Shawnee Town. She worked for several years as the Shawnee city clerk and the building inspector's assistant. When she found out the Citizens Bank and Trust wanted to tear down the house, she let her feelings be known.
"I went to work and said 'why can't they move that house to Shawnee Town?'" Wilson said.
The Shawnee Historical Society took up the idea and moved the home. Wilson said she was sad to see the back portion of the home go, but she's happy that new plans for Shawnee Town, 1929, will place her family home in a farm setting and call for the back of the home to be re-built.
"That would be nice," she said.