The competition was intense, with team members ducking and weaving, dodging the balls launched at them by the opposing team.
With several well-placed throws outing other dodgeball team members, it came down to two members of the Hedge Trimmers team versus a lone member of Prospects for Dodgeball. Fans cheered on the last man standing, but the Hedge Trimmers teamed up to throw two rocketballs he could not dodge.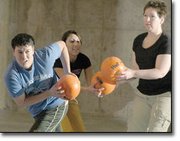 The action was not found in the movie "Dodgeball: A True Underdog Story" or even on GSN, the cable channel that airs the "Extreme Dodgeball" show. It was in the basement of Perceptive Software, Inc., in Shawnee.
The software company is sponsoring the "Dodge for a Cause" fund-raiser, partnering with Sports Radio 810 to make use of the dodgeball court in its new $18 million building in western Shawnee. The 56 teams who are participating in the dodgeball tournament have already raised $10,000 for the Juvenile Diabetes Research Foundation and the Union Broadcasting.
And judging by play on Saturday, the first day of the tournament, the players were having a great time raising money through the playground game.
"That was cool," a breathless Marty King, owner of Crown Lawncare in Shawnee, said after the triumph of his company's team, the Hedge Trimmers.
Scott Coons, president and CEO of Perceptive, said the tournament, which continues through this week, was a great way to raise money for a worthy cause and get out into the community.
"We're going to do it every year, and we hope that it'll grow," he said. "We enjoy sharing our building with people in the community."
The dodgeball court isn't the only unique thing at Perceptive; its 250 current employees also enjoy a slide from the second to first floors, Xbox 360 lounges on each floor, a fitness center and several areas where couches are grouped to encourage employee collaboration.
The company stands out for its work environment, but it should be better known locally for the number of organizations its software serves -- everything from private companies, banks and hospitals to several school districts, colleges and universities, including all universities in Kansas.
Perceptive started out as Perceptive Vision in 1988. The company creates innovative document imaging and management and workflow software solutions for organizations in a broad range of industries.
Coons said he started the company to create software that would allow companies to manage documents efficiently.
"We're just kind of one of the founding companies in our space," Coons said. "It took a long time to get to where we are now, but we've had a lot of success.
The company moved from Missouri to Kansas in 1994, and moved into a Shawnee location, 7734 Hedge Lane Terr., in 1999, with the help of the Zarda family, some of the company's original investors.
Perceptive's focus is now on its flagship software, ImageNow, which it created in 1995. The software manages documents, whether generated on a computer or images of hard copies, by allowing companies to organize it, store it and categorize it. It works through Microsoft Windows or a Web browser that can run on any computer with any software.
"Our product itself has a lot of uniqueness to it and offers a lot of capability that our competitors just don't have," Coons said.
Perceptive now claims about 1,500 clients. With its success, the company was able to start planning for a much larger headquarters -- the original building the company worked out of could fit into its new building's basement storage room.
Before building its new headquarters, the company considered moving back to Missouri as well as moving to California to take advantage of the talent pool in Silicon Valley. But with Perceptive's experience finding talented employees in the area, coupled with incentives offered through the Shawnee Economic Development Council and Kansas Department, the company decided to stay.
"At the end of the day, we felt really strongly that we consistently were getting highly-skilled and talented people right here in this market," Cary DeCamp, vice president of marketing, said at the time. "We just have a great track record at hiring local folks, and we're hoping to continue that."
The new 100,000-square-foot building was built with the employees -- and future growth -- in mind. Each department of the company had a hand in designing its area of the building.
"We basically decided we were going to think outside of the box, and if there was anything interesting that could be done, we were going to do it," Coons said.
This led not only to the unique ideas like the dodgeball court but also to a building with state-of-the-art technology. For example, product, project, customer and department information is updated and displayed on plasma monitors throughout the building, and the three-story building is completely covered for wireless internet.
The sales department has "hoteling" stations for traveling employees, and the research and development department puts programmers in quiet, dimly-lit "pods," each with a hose pumping in fresh air.
Coons said it all comes down to and starts with the employees, because the employees are the ones who take care of the customers. Even in the company's former cramped quarters, there was always a ping-pong table and Frisbie games in the parking lot.
"Happy employees make for happy customers," Coons said. "We've always run the business that way... In the software business, your assets are your intellectual property, and your intellectual property is your people. That obviously involves being creative in what we offer in our building and creative in our business."
A large amount of the building's third floor is open, dedicated to the company's future growth, and other areas of the building, like the research and development department, have empty desks in anticipation of new employees.
And with all of the new space, Perceptive can keep growing. Its projected revenue for the fiscal year 2006, which ends June 30, is $36 million, an $11.5 million increase from the previous fiscal year.
The company has had 54 percent average annual software license revenue growth since 2003 and a more than 47 percent Compound Annual Growth Rate from 2000 to 2005, and it plans to add 100 employees in the next year. With growth like that, it's not surprising that the company already has an option on the neighboring land if it needs more space.
"Our plan is to continue to grow, and that means eventually this building will be too small," Coons said. "It will allow to us to build the same size building we have today if not a bigger building."
With an innovative building and employee-friendly environment, that day may come sooner rather than later.
"When you have a product that works extremely well and you have employees that understand it very well and know what it takes to take care of customers," Coons said, "it's sort of a formula for success."