Jags Reclaim Regional Title
Mill Valley advances to 5A quarterfinals with 4-1 victory over Lansing
Matt Tait
Sports Editor
As if securing the program's 100th all-time victory wasn't big enough, the Mill Valley High School soccer team made sure to add a special touch to team's century-clinching win.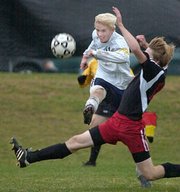 Thursday, on a cold, wet and sloppy home field, the Jags knocked off Kaw Valley League rival Lansing 4-1 in the regional final to secure another trip to the state quarterfinals.
Thursday's match-up was highly-anticipated throughout the region, however, the Jags quickly turned it into a run-away, scoring three first-half goals and adding a fourth late in the second half to clinch the title.
"I can't say enough about the job (Lansing coach) Randy (Brown) has done over there," MVHS coach Arlan Vomhof said. "I'm nervous every time we play them. He's done a real good job with that program."
No matter how far the Lions have come, Mill Valley proved they still have a way to go on Thursday by controlling the first-half and limiting Lansing's chances.
The Jags used their speed and opportunistic offense to jump out to a 2-0 lead in the game's first 15 minutes.
Senior Spencer Nash netted both of the early goals, racing behind the LHS defense and beating Lansing's all-state goalie Alex Burton with a pair of nearly identical chip shots.
"The thing I love about our guys is they're unselfish," Vomhof said. "Whoever's there is there and whoever scores scores. Today it just happened to be Spencer. He took advantage of his opportunities and gave us a big lift."
Nash completed his memorable night by flipping the Jags' fourth goal past Burton with 8:06 to play.
Between Nash's tallies, senior Josh Grimes added a goal of his own and the Jags rolled to victory.
The win was special for Vomhof because it was the program's 100th. But it was also special because it got the Jags back to the quarterfinals after a year away. Last year, Mill Valley fell to perennial power St. Thomas Aquinas in the regional finals.
This year, Mill Valley hopes to get back to the semifinals, and perhaps beyond.
"I hope so," Vomhof said with a smile. "We've had some very skilled teams in the past, but this is probably the most skilled team we've had and I hope we can continue on."
To do so, the Jags will have to win their next contest before advancing to the state semifinals next weekend in Topeka.
The Jags' likely quarterfinal foe will be Shawnee Heights, a team who won it's region with a 6-2 victory over Ottawa.
For more on the victory, as well as continuing coverage of the Jags' run through the state tournament, stay in touch with www.shawneedispatch.com and pick up a copy of next Wednesday's Dispatch.