Challengers, veterans split De Soto decision
Blankenship, Thomas, Fletcher, Clark
A long and hard-fought battle came to an end Tuesday. Voters chose four candidates for the De Soto School Board.
Complete-but-unofficial results from the Johnson County Election Office show two new members will take their positions on the board, along with one incumbent and one former incumbent. Tim Blankenship, Don Clark, Bill Fletcher and Jim Thomas received the most votes in Tuesday's election.
Results for Position 1 show Tim Blankenship with 1,252 votes over Rick Walker, 1,207 votes. In Position 2, Jim Thomas received more votes than Bob Dyche, 1,358 to 1,078. Bill Fletcher beat Sandra Thierer in Position 3, 1,309 votes to 1,144. In the at-large position, Don Clark received 1,442 votes, defeating Kevin Straub with 1,114.
Clark said he was grateful to the patrons in the district demonstrating their confidence in him.
"I think it's the leadership I've shown over the past four years," Clark said. "I think the voters analyzed each candidate and made what they thought was the best decision for the district."
In Position 1, Blankenship said he was happy to serve the community and that a lot of patrons told him they were looking for change.
"There's a large group of people concerned that the board is not spending money wisely for the education of the students," Blankenship said. "The thing I heard most was that people would like to see more long-term strategic planning by the board."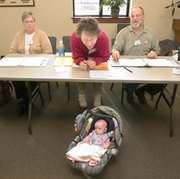 Blankenship said the race was a hard one for many, but said his opponent, Rick Walker, was not one to campaign negatively.
"It was very disappointing to me, what some people were willing to do to win," Blankenship said.
Former Kansas City, Kansas school board member Fletcher defeated a long-time incumbent in Thierer. He said the main excitement for him was the large show of support.
"I heard this was a really good turnout," Fletcher said. "I really appreciate the voters' support. Hopefully I sent a positive message and people responded."
Clark said the main issue now is to move on from the election.
"Any time you have an election people throw out more negatives than positives," Clark said. "It's time to focus on positives and how we can continue to build on them. It got heated at the end."
Clark's opponent Kevin Straub said that while he thought he ran a positive campaign, he was portrayed negatively.
"A lot of the stuff said about me was dishonest," Straub said. "I never said I want high schools at 3000 students. I never said I want our classrooms to have 500 kids."
Straub said he hopes the board takes away a lesson from this race.
"All I'm asking for is I really wish the school board would watch how they spend their money," Straub said.
Blankenship said that would be a major issue for him when he takes the seat, as well as long-term planning such as school locations. Clark agreed that the board will need to rebuild the community's confidence.
Results are complete but unofficial. They will be made official after the Johnson County Board of Canvassers meets Friday morning in Olathe.