Shawnee Mission Education Foundation hands out grants
A van with a sign saying 'Prize Patrol' pulled up to Shawanoe Elementary Thursday, looking to give a giant check and balloons to reading teacher Marianne Gray. But Ed McMahon was not the one coming out of the van. It was members of the Shawnee Mission Education Foundation, awarding the Excellence in Education grants.
Teachers receiving the grants were surprised Thursday with a giant check in the amount of the grant, up to $3,500. Seven grants were awarded, totaling more than $17,000. The oversized check given to Gray was for $2,907.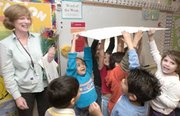 Cindy VonFeldt of the foundation said the teachers were unaware of their grant status until the Prize Patrol showed up. Gray was told a colleague was called away to a phone call and Gray would need to watch the students. Gray said she was shocked when the Prize Patrol burst into her classroom.
"You know what this means?" Gray asked her students as she was handed the check. "We get a lot of new books to read."
Gray applied for a grant earlier this year for a program called "Leaping into Literacy" that would provide her class with guided reading books.
"The new books will be able to match reading ability with their level," Gray said. "The students will be more challenged by a program individualized for them."
For the application, teachers needed to cite the program they would be funding, how much it costs and how the students would benefit. VonFeldt said a committee of ffoundation board members and educators then reviewed the applications and chose the recipients.
"We are really looking for programs that are innovative and challenging," VonFeldt said. "Excellence in Education grants provide money to test out or introduce new materials, teaching techniques or curriculum support."
Money for the grants comes entirely through community support and donations. The programs will be implemented for next year.