Riveting reads
7-year-old reads 400 books, wins library contest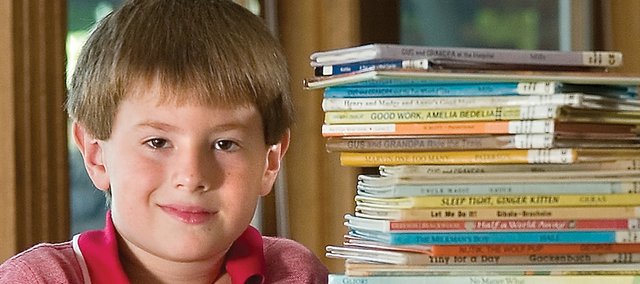 If you ask 7-year-old Andrew Moritz what he did on his summer vacation, he would say that he read a lot of books - about 400 of them actually.
The feat started as a small competition with his cousin who had read 100 books.
When Andrew, a first-grader at Maranatha Academy, visited his cousin Bethany in Oklahoma earlier this year he saw that she had a trophy in her room for reading 100 books.
"I was like 'Wow, Bethany, how did you read 100 books?'" Andrew said.
So Andrew decided that he could do it too, and he did it in conjunction with the Johnson County Library's "Get a Clue at Your Library" summer reading program that had children track how many books they read over the summer.
About every three days, Andrew and his mom Danielle Moritz would check out about 20 books from the Shawnee Library. After reading a lot in his free time, he finally reached 100 books and he couldn't wait to tell his cousin.
"I think she said something like 'Wow, Andrew, good job,'" Andrew said.
Although he reached his goal early on, he kept reading.
"My mom wanted me to not stop reading," he said. "So I kept reading and reading and reading."
By the end of the summer, Danielle noticed the difference in Andrew's reading abilities.
"He just kind of flows now whereas in the beginning of the summer it was more halted," Danielle said. "Now he likes the ones that tell a story or are funny."
Andrew already read well at the beginning of the summer. He was at a first-grade reading level as a kindergartner at Maranatha last year.
Some of his favorite books are in the "Amelia Bedelia" series.
"She doesn't understand anything," Andrew said with a laugh. "One person said 'I'm going to have my coffee and cereal today,' so Amelia took the coffee and poured it on the cereal."
Every night before he went to sleep, Andrew and his mother would go over what books he read and would color in the tracking sheet that he got from the library.
Andrew often read to his 2-year-old niece, Angel Moritz, but he said it doesn't matter to him if he reads with someone or if he is alone. He also said he isn't picky about where he reads. Sometimes he would walk around with a book or sit on the couch or on the floor.
"If we're traveling somewhere he'll be in his car seat and he'll just read in the car," Danielle Moritz said.
Although Andrew eventually read 400 books, he didn't spend all of his time reading. He still got to play with his toys and video games.
And the books he read weren't novels. They were children's books, which are typically shorter to coincide with the short attention spans of youth. When he did read books with chapters, he counted each chapter as a book because the librarian said it was all right.
At the end of the summer the Shawnee Library had a drawing that included all the children who participated in the summer reading program, and Andrew won. He had his picture taken to be on a READ poster that will hang in the library.
Kathee Goldsich with the Shawnee Library said although the drawing included everyone who participated in the summer reading program, she was glad Andrew's name was drawn because he read the most.
"It was great that someone who read so much actually won," she said.