Shawnee business remembers soldiers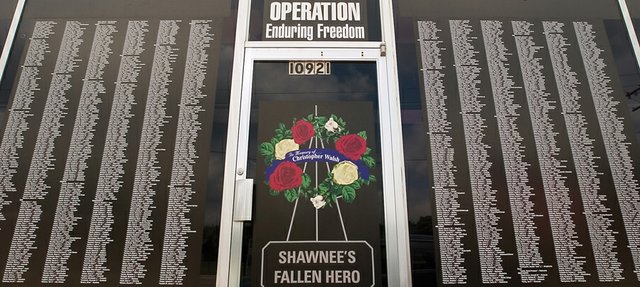 About 10 days ago, Prepress Graphic Professionals in downtown Shawnee began attracting some extra attention from passersby.
The large, central front windows of the creative services and printing business, 10921 Johnson Dr., were now covered in black, reading "In memory of our fallen heroes" across the top and containing more than 3,000 names of soldiers who have died in the Afghanistan and Iraqi conflict. The windows on either side contained images of the bald eagle and fireworks, each incorporating the American flag.
The display has drawn several visitors, who often will stop in their progress down Johnson Drive to inspect the windows up close.
"A lot of people have stopped to take pictures and compliment us, so it's made quite an impact," said Connie Pettigrew, desktop specialist with Prepress. "... A lot of the people who stop get teary-eyed."
Pettigrew said the idea for the window decorations sprang from the city's request that downtown businesses to show a patriotic display to coincide with the city's Fields For Freedom effort, which placed 1,000 flags along Johnson Drive and in the downtown area over the weekend.
But Prepress took their idea a little bit further, as owners Dan Distler and Jack Gulick were familiar with the Fields for Freedom display in Merriam last year.
"What they had down there was really impressive," Gulick said.
So taking the names of fallen soldiers listed online, the business mapped out a design for their windows, using a new product that adheres to the windows. Because Pettigrew's children had gone through school with him, the business was very aware of Chris Walsh, a 2nd Class Navy Petty Officer and Shawnee native who died in September 2006 in Iraq. Prepress reserved the glass of its central door for a special tribute to Walsh.
Prepress has been located in downtown Shawnee for 17 years. The company of 13 employees provides several different services, including digital printing, banner and poster printing, desktop production and creative services and Internet document and design services. Information about the business can be found at www.prepress-kc.com.
Pettigrew said Prepress has continually added to its list as new names become available.
"Right now, we're updating it weekly, because there's quite a few more names to add to it even now," she said.
Given the reaction of the public, Pettigrew said the display might remain up longer than the Fields for Freedom flags, which will come down Saturday.
"I don't think we'll take it down now for a while," she said.