Area chiropractors get back in motion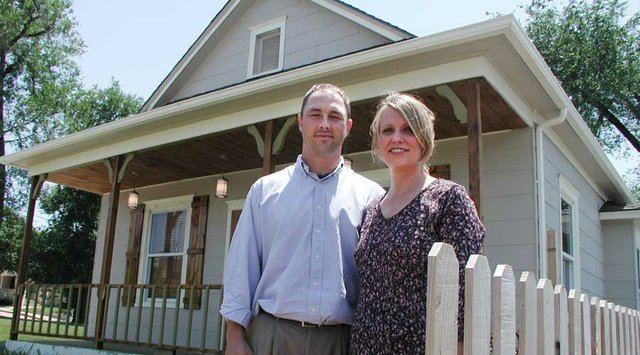 With a little bit of love, two Shawnee chiropractors have created yet another reason for Shawnee to be proud of its downtown.
After six years near 75th Street and Nieman Road, Kile Kaspar and her husband, Scott Harvey, took an old home and former veterinary clinic at 11405 Johnson Dr. and made it their own. Open since January, they say their practice, Back in Motion, is already reaping the benefits of its new downtown location.
Both Kaspar and Harvey said they got into chiropractic after having their own positive experiences in which chiropractic methods helped them overcome pain and injuries.
Kaspar, who grew up in Shawnee, said she had known since she was little that she wanted to do something in the medical field, but she wanted to focus on helping people feel better without prescribing various medications.
Then she was injured in a diving incident, and after going through a battery of medical tests, she finally went to a chiropractor. She said that after just two treatments, she felt as good as new.
"So I knew there was something to it," she said. "I was always a health fanatic, so I was interested in natural healing with natural products to help your body help itself, instead of masking pain with drugs."
The couple met at Cleveland Chiropractic College in Kansas City. After graduation in 2000, Kasper went to see her former chiropractor in Shawnee, who offered to sell the couple his five-year-old practice.
After six more years in the Tomahawk Shopping Center, Harvey and Kasper wanted to own, rather than rent, the space for their business.
"And we had a patient that said 'There's this cute little house for sale on Johnson Drive,'" Kaspar said.
They had checked out several other Shawnee locations, Harvey said, but when they stepped into the house, built in 1929, they had a "vision" - although it needed a little work. The previous owner had fixed it up, replacing the walls, wiring, heating, and air conditioning, but it was basically an empty shell.
The couple spent months creating a new interior for the home, doing 99 percent of the work themselves.
"Pretty much everything in here was done with our own two hands," Kaspar said.
They also added a new driveway and parking lot. Kaspar said she hoped the renovated home added to the charm of downtown. But with the renovation completed, the couple are ready to get back to the goal of their chiropractic practice: spreading the knowledge about the benefits of chiropractic methods.
"Ultimately, there's so much missing in people's knowledge of what chiropractic can do," Kaspar said. "Typically, there's a medical, conventional box that people have been taught to go through, when they could go through much more natural and less expensive methods."
The couple said people should know that chiropractors don't just treat the back and spine, but every muscle, nerve and joint in the body.
"We want to make people better as fast as we can while reducing the chance of relapse," Kaspar said.
And they now have a great place to do that. Harvey said they hope to put an addition on the back of the house in the future to add room for a massage therapist. But for now, they plan to enjoy the benefits of being downtown.
"The traffic and visibility has been amazing," Kaspar said. "We get at least 10 people a week that just walk in."
For more information about Back in Motion, call 962-6063 or visit www.thebackpro.com.