Wheldon wins at Kansas Speedway
Late-race yellow helps IndyCar driver repeat
Photo Gallery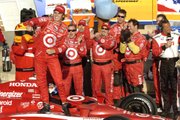 Kansas Speedway Road Runner Turbo Indy 300
Dan Wheldon won the Kansas Speedway Road Runner Turbo Indy 300 on Sunday, April 27, 2008.
Kansas City, Kan. — After two consecutive years as runner-up at Kansas Speedway, Dan Wheldon became the track's first two-time IndyCar Series winner when he defended his victory Sunday in the Road Runner Turbo Indy 300.
"Any time you win it's a good thing. And if you can be a repeat winner at a track, that's something to be proud of," Wheldon said following the 200-lap race. "It's a track that I very much enjoy. You know, it's a track that is incredibly challenging with the seams and what it does for the race car."
However, the victory came at the expense of Wheldon's Target Chip Ganassi Racing teammate Scott Dixon.
Dixon, who started the race on the pole, led a race-high 145 laps, but with 47 laps left Dixon was fueling up in the pits when a yellow flag came out after Buddy Rice - the 2004 race winner at Kansas Speedway - hit the wall.
The caution subsequently gave the leaders a free pass into the pits and put Dixon at the back of the lead lap.
Though Dixon knew his chances of winning were slim having to restart in seventh with 28 laps remaining, the driver of the No. 9 car still worked his way through traffic for a third-place finish.
"You know, it was one of those days that we had a good car and you thought you should have won, but you came up short," Dixon said.
Hopes for back-to-back victories by Danica Patrick disappeared when a damaged right-rear wheel mount ended her day with 44 laps remaining. The winner of the Japan 300 at Twin Ring Motegi started in the No. 3 position and struggled all race long before finishing 19th.
Fortunes were a bit different for Patrick's Andretti Green Racing teammate Tony Kanaan, who started the day in 11th. Kanaan worked his way into the top five within the first 50 laps and finished second.
"I think we got a little lucky at the end with Scott's misfortune on the yellow flag," Kanaan said. "I think we definitely had the car to finish in the top three, but not to beat either one of the Ganassi guys. I think the race itself was kind of boring for all of us and I think for the fans, too. So I don't know what we can do to try to make these races better."
"From the standpoint of being boring, it might have been boring because the two Chip Ganassi racing cars are pretty dominant," Wheldon said in response to Kanaan's statement.