Effort hailed as successful
Rebuilding Together Shawnee draws more than 100 volunteers to work on houses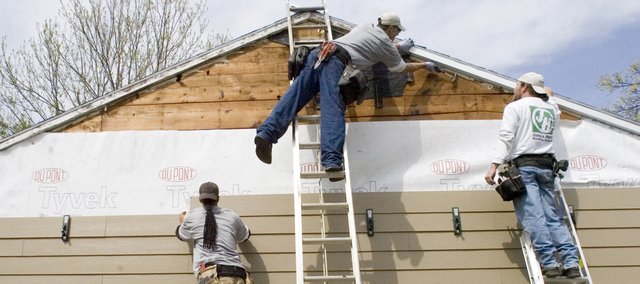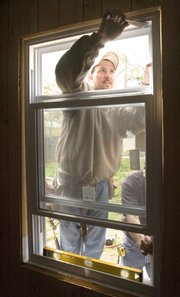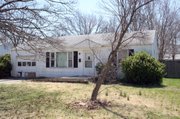 The house on 69th Street stood bare, studs and other boards exposed, and the throng of activity surrounding it Saturday was attracting curious stares from the neighbors.
The construction at the house was just short of an "Extreme Makeover: Home Edition" show - workers were putting in a new shed and yard plantings, replacing rotted wood and window frames, installing new siding and windows and putting in a new concrete ramp, front porch and driveway for the owner, who suffers from health problems.
In front of it all was a sign that proudly stated it was a project of Rebuilding Together Shawnee.
Hank Bednar, owner of Bednar Interiors Inc., was site captain for the volunteer effort, one of five Shawnee homes receiving repairs as part of National Rebuilding Day. Bednar said the 69th Street house was receiving the most attention of the five.
"If I had to put an estimated value on what we're doing, I'd bet it would be $75,000 or more," he said. "What we're doing today is much more than what the house is worth."
Jeff Bahnson, co-president of Rebuilding Together Shawnee, agreed.
"That house brings tears to my eyes, with the amount of turnaround at that home," he said.
Foundation laid
Saturday was the first National Rebuilding Day project for the relatively new Rebuilding Together Shawnee group, but with a lot of preparatory work completed in the week leading up to Saturday, the day went off without a hitch.
"It's running pretty smoothly, considering we've never done it before," Bahnson commented at noon.
Though organizers only expected a little more than 60, more than 100 volunteers turned out to help with the five homes. Rebuilding Together Shawnee sought applications for homes to receive repairs on Saturday, but as a new, relatively unknown organization, Bahnson said it had to find two of the homes through the county's housing department, while the others were suggested by friends and neighbors.
The group met with the homeowners to discuss what needed to be done and what Rebuilding Together could provide. Some houses just needed some rotted wood replaced, a new paint job and some landscaping, and one house got a new roof.
Bahnson said Rebuilding Together worked with a contractor to come to the house Saturday and oversee volunteers building the new roof, but as it turned out, that wasn't necessary.
"Last Tuesday, the contractor called and said 'My crew's not doing anything; can we just come and do that roof?'" Bahnson said. "It was awesome. It's just been beyond my expectations, this whole week."
'Awesome feeling'
Just north of Johnson Drive, near Shawnee United Methodist Church, another crew was working on a small home built in 1908. Theda Lewis, 89, stood and watched as 20 or so workers moved busily around her property.
Lewis and her late husband had worked at the nearby church for more than 40 years as caretakers, and her husband also had been a handyman for hire, so he had accumulated a lot of repair materials that still sat in Lewis' garage.
Rebuilding Together volunteers came to make some other repairs and clean out Lewis' garage, filling up an entire Dumpster, in preparation for Saturday's painting.
"It's sort of an awesome feeling that people would volunteer to do this much work," Lewis said. "It's saving me several thousand dollars."
Roger Chalk, a retired school administrator who took up house painting in the past 12 years, has known Lewis for 40 years. Chalk said he volunteered, along with other members of Shawnee United Methodist, to just try to help.
"When I heard it was Theda, I was even more happy to help," Chalk said.
All about community
Much of the work at the 69th Street house required more than do-it-yourselfers, and Bednar said Rebuilding Together had received a lot of help from members of the National Association of the Remodeling Industry.
"I called all my guys, and no one said 'No,'" Bednar said. "If they aren't donating it, they're giving it to us at cost."
Bednar said the professional volunteers were able to make sure the improvements were done the right way.
"They're thoroughly going back and meticulously putting it back together," he said.
Most of the volunteers at the 69th Street house came from a group at St. Joseph Catholic Church that in past years has participated with another volunteer home repair project, Christmas in October, most often helping with homes in Kansas City, Mo., or Kansas City, Kan.
One of the volunteers was Shawnee City Council member Mickey Sandifer, who said while it had been rewarding to take part in Christmas in October, he was happy to see Shawnee residents receiving help.
"This is what community's about - this is neat, especially when you can do it in your own town," Sandifer said.
Bednar said with the community spirit that was evident at the site, he foresaw many more projects Rebuilding Together Shawnee's future.
"It's going to give comfort to people that they know where to turn if they need help," he said.
The work is not complete; Bahnson and co-president David Morris said the group now would meet to discuss how to proceed with future projects. Bahnson said group members would discuss if they would like to work on houses one at a time as they receive applications, if they will have another Rebuilding Day like Saturday in the fall, or both. To learn more about applying with the organization, visit rebuildingtogethershawnee.org.
A fundraising event for Rebuilding Together Shawnee also is scheduled for next week. The group from St. Joseph's Church will have a taco dinner from 6 to 8:30 p.m. May 10 at the church, 11311 Johnson Drive. The dinner is open to the community, $10 for adults and $6 for children 10 and under.
Companies that contributed to Rebuilding Together Shawnee
The Stevermer Company Inc.
Bednar Interiors Inc.
Sundance Windows, Doors & Siding
Overhead Door Company of Kansas City
Castle Rock Remodeling
Electrical Associates LLC
Shaw Supply
McAnany Construction Inc.
Up & Up Concrete
Tuff Shed
Lansing Building Products
Coronet Window Co.