Condemnation process for road project starts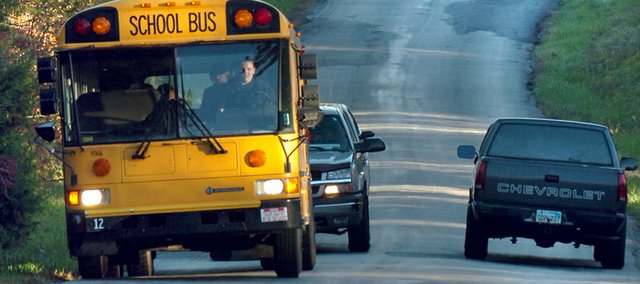 Progress on reconstruction of Monticello Road south of Shawnee Mission Parkway continues to move forward at a plodding pace. On Monday, the city started the condemnation process to obtain rights of way for the road.
With just 12 of 49 tract owners having signed and returned easement acquisition contracts to the city, the Shawnee City Council decided to begin the process of using eminent domain to acquire right-of-way for the road. Difficulties with relocating a Southern Star natural gas line running parallel to the road have led to several questions from residents, and a Council member suggested that given the costs of the project, the city should take another look at making the road three lanes rather than four.
The city in October 2007 had already begun the condemnation process for two homes, which would have to be removed to build the road, and city staff reported it anticipated completing acquisition of those homes by Sept. 1.
Offer letters for right-of-way, storm drainage, temporary construction and utility easements were sent to property owners June 19, but as of Monday night, only 12 owners had signed and returned the letters. City staff recommended beginning the acquisition of the property through eminent domain to avoid further delays on the road project.
Council member Michelle Distler asked several questions she had heard from residents, including concerns that the city was taking more land for right of way than it actually needed.
Paul Lindstrom, city project engineer, said only minor changes had been made to the road plan approved April 14 by the Council, and he didn't know of any areas where more land was being taken than necessary.
Council member Mickey Sandifer asked if a relocation map had been created for Southern Star pipeline or another line in the area operated by a company called Quest. Lindstrom said he didn't know of any locations in which the Quest line would need to be moved, but he would have to check on that. An official report on the location of the Southern Star line would be made public, Lindstrom said.
Marvin Rainey, city attorney, said some of the questioning was getting close to issues currently up for debate in a lawsuit concerning the road project, filed by residents whose home must be razed if the road is built. He said he didn't want Lindstrom to answer some questions that don't have a definite "yes" or "no" and have those answers come back in court.
"I think we're getting into an area in which I don't want to say what can or cannot be said legally," Rainey said.
Council member Dan Pflumm asked if the contracts the city was offering were fair, since only 12 people had signed them.
Lindstrom said city staff felt the city's offers were fair, and some tracts may be taking longer to get back with the city because there are multiple owners.
One Monticello resident, Lance Darby, said he had just received his offer letter earlier that day and had several questions related to where the pipeline would be located.
"I think fairness to residents is to give us all the information before you ask us to make a decision on whether or not to accept this offer," Darby said.
Lindstrom said discussions with Southern Star were "looking better," and there wasn't any conflict between the city and Southern Star. He said he hoped to have the Southern Star situation finalized in the next month, about half the time it would take to begin the next step in the eminent domain process.
He said once the Southern Star situation was resolved, if residents were satisfied with their questions concerning the pipeline, they could still be removed from the eminent domain process.
The Council approved 6-2 a resolution declaring it necessary to appropriate private property for the use of the city for the improvement of Monticello and authorizing a survey and description of the land; and an ordinance authorizing and providing for the acquisition of land or an interest therein by condemnation. Distler and Sandifer voted in opposition to each item.
Distler then said she would like to make a motion for city staff to provide information concerning cost differences of making the road three lanes with bike lanes instead of four lanes with a bike trail. Sandifer seconded the motion.
Distler said she made her motion at the request of residents living on or near the road and thought that since the city knows more details concerning the road's construction, she would like to see if it would be more plausible to build the road as a three-lane.
Council member Neal Sawyer asked if the city would have to spend much money to get this information, and Council member Dawn Kuhn said she hoped it wouldn't take much more than four hours of staff time to provide a ballpark figure of what the change in cost would be and the cost for engineering firm HNTB to change the design.
Lindstrom said he didn't think the change would be a cost savings, but that staff could look into it.
The motion was approved 6-2, with Pflumm and Straub voting in opposition.