Commissioner to refund campaign for sales tax ad
Ethics panel ruling prompts decision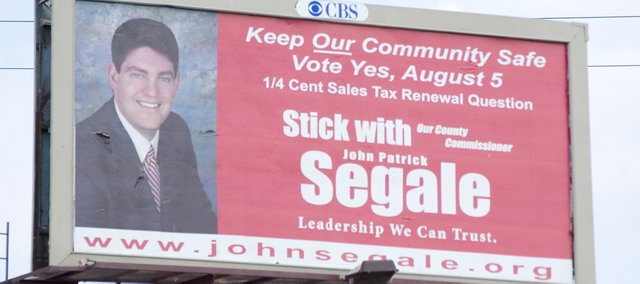 Johnson County Commissioner John Segale will have to refund his campaign for half the expense of a billboard promoting both his re-election and passage of the countywide sales tax for safety.
After questions were raised about the legality of an elected official promoting passage of the sales tax with campaign funds, the Kansas Governmental Ethics Commission ruled Aug. 20 that the campaign could pay for only half of the billboard costs.
"I think this is a reasonable ruling, which is why I inquired with the (ethics commission) in the first place," Segale said.
But Segale added that he still thinks it would have been reasonable to rule that the entire cost of the billboard could have been funded through his campaign.
The billboard is located in Merriam, just east of Interstate 35 on the north side of Shawnee Mission Parkway, facing east. It states "Keep Our Community Safe, Vote Yes August 5, 1/ 4 Cent Sales Tax Renewal Question. Stick with John Patrick Segale, Our County Commissioner, Leadership We Can Trust," and also gives Segale's Web site.
Tracy Thomas, a former Shawnee City Council member, personally campaigned against the sales tax and was among those who criticized the billboard. In e-mails sent to the media, she said the billboard was illegal because Segale, as a paid elected official, should be unbiased and should not campaign for the tax. Thomas called for the Johnson County District Attorney's Office to force Segale to take down the ad.
Others pointed to a 1998 ethics commission decision concerning the Overland Park City Council, which said council members could not use campaign funds to support or oppose a ballot initiative because to do so is not a function of holding public office.
But Segale said he thought the discussion about his billboard at last week's ethics commission meeting, which was conducted to discuss all questions from the primary campaign season, was just as much due to his own questioning of the issue in an e-mail to the commission before the billboard was put up.
"This is a case where the campaign finance rules were not defined and a ruling was needed," he said. "That is what I asked for and what I got. It was an honest question that I initiated.
"I would also point out individuals like Tracy Thomas tried to make this whole thing look nefarious, which it was not," he said. "I reported the expenditure and asked the (commission) a question about the expense and got an answer."
Segale said he would happily pay the $200 cost out of his own pocket and "mark it up as the expense of doing my civic duty."