De Soto schools experience growth spurt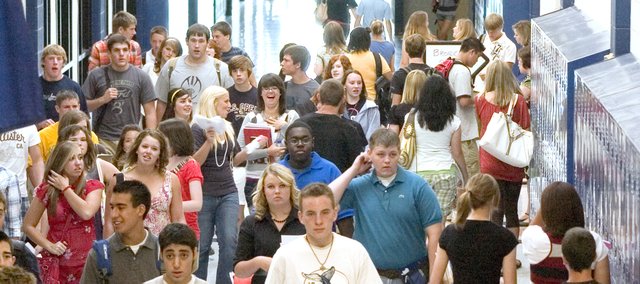 De Soto USD 232's preliminary enrollment numbers show about 409 more students than the district's official headcount from 2007.
District operations director Jack Deyoe cautioned that enrollment numbers are not official until Sept. 20, the official headcount day for state funding.
"Until Sept. 20 there are still going to be people that they are finding that they thought they were going to come to school, but they will find in the next week or so that they never told anybody they moved and just didn't show up," Deyoe said.
The 2007-08 official headcount in the district was 5,932 for students in kindergarten through 12th grades. Deyoe said preliminary enrollment numbers for the 2008-09 school year are 6,341.
"It's more than we expected, but again, that number has come down a little bit since Aug. 8 and I expect it to come down more," Deyoe said. "We thought it would come up just shy of 400."
The growth this year can mostly be attributed to incoming kindergartners, Deyoe said.
While last year's senior class was 284 students, this year's kindergartners more than double the now-graduates with 579 students.
Although the kindergarten class is large, it isn't the largest grade level of students in the district, Deyoe said.
"Our biggest class right now looks like it will be the third-grade class, and it's 583," he said.
When Horizon Elementary School opened last year, the district saw large numbers of kindergarten students enrolling there, and it's no different this year, Deyoe said. There are about 120 kindergarten students at this point, and there are only about 62 fifth-graders. Last year there were 119 kindergarten students.
"What we didn't really count for or expect when we did the projections at Horizon, we based it off of the numbers at Clear Creek and Mize that were going to go there," Deyoe said. "We had no way of knowing what was going to come in the first year of school kindergarten. When it came in as 117, we didn't know if that was a high blip on the screen or if that was going to be a trend. It appears that is the trend that we are seeing right now. It is a result of really young families."
High school enrollment numbers are coming in as expected, Deyoe said. Mill Valley High School has about 1,013 students so far and De Soto High School has about 620 students.
However, the space crunch continues at the district's high schools; Mill Valley's capacity is 1,000 students and De Soto's capacity is 750 students.
By 2011 the district will have outgrown its high school capacity and other solutions will have to be found if patrons do not approve the $75 million bond issue that includes expanding Mill Valley and De Soto high schools to 1,400 and 1,000 students respectively. The bond issue also includes a seventh elementary school to help handle the larger incoming classes.
Patrons will vote on the bond issue at the Nov. 4 general election.