Club helps those seeking employment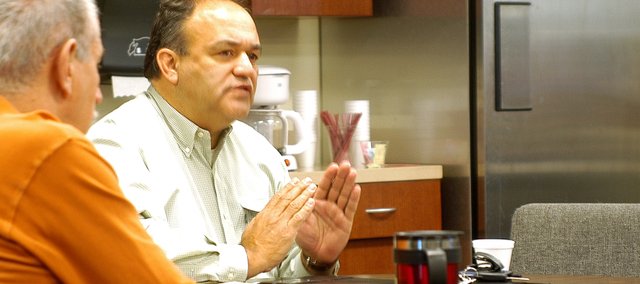 Tony Schroeder has been here before.
The accountant and former Shawnee resident was part of the layoffs at Sprint in 2002. He joined a job club through Church of the Nativity in Leawood to help in his search for new employment and eventually found a job with a hospital group.
But this time, it's different.
This time, when downsizing began, he first was transferred to an open position. When that position was eliminated last month, he was to be transferred to another open position, but the company decided to freeze that position. Once again, he was out of work.
"We're now truly numbers," said Schroeder, who now lives in Overland Park. "They didn't even look at the people, just the positions."
And though it's been just a little over a month since he lost his job, Schroeder said he can tell that in this economy, in this climate, it's worse than in 2002.
"This is hands down the worst," he said. "This is gloom and doom — and I'm an optimist. Hospitals are one of the last things to get hit, but people are postponing surgeries. And that's not good."
So Schroeder has returned to what helped him the first time. Sacred Heart Catholic Church in western Shawnee has started a job club, designed to help anyone looking for a job, whether due to unemployment or a desire to transition to a new career.
The club meets at 8:30 a.m. every Friday at the church and met for the first time Dec. 5. Schroeder and a dozen others shared their stories and tips for searching and interviewing for a job in this economy. Members discussed tips for job searching: business cards, using Web sites like linkedin.com or indeed.com, researching an employer before going on an interview and different ways to network.
Maureen Reintjes, communications director for Sacred Heart Parish, serves as co-facilitator for the group along with Ralph Clevinger, a parish member with a background in pharmaceuticals.
Reintjes formerly led the job club at Church of the Nativity in Leawood, from 1995 to 2004. She said she began the club at Sacred Heart at the request of Laura Johannesmeyer, the facilitator of the Johnson County Community College club, who keeps track of all job clubs in the metro area and discovered there were half as many groups this year as there were in 2000.
Reintjes said she agreed to start up a Sacred Heart club because the church was looking to start more community groups, but also because she knew demand for such a group would grow.
"They say this holiday season, we're going to see so many layoffs it's going to be mind-boggling," she said.
The group will cover resume rewrites, interviewing skills, networking possibilities and employment contacts. One of the main tools the group offers, even for those who cannot attend the weekly meetings, is a networking Web site to allow members to promote themselves to prospective employers, sacredheartjobclub.ning.com.
The Web site is something that attracted Phillip Morgan of Overland Park to Sacred Heart's club. He also attends the clubs at Prince of Peace in Olathe and JCCC, but he said he was excited about the possibilities with Sacred Heart's job club Web site.
Morgan classifies himself as a recovering victim of WorldCom layoffs in 2002. He had two jobs in his first 20 years in the workforce, he said, but he's had three jobs in the last six years.
He said the clubs are extremely helpful for all of those losing their job at age 40 or 50.
"We've been working all of our lives; we've forgotten how to interview," Morgan said.
Morgan suggested to club members that they try not to be too negative when on a job interview — don't focus too much on the loss of the previous job.
"Part of the process is getting out of that mourning, that grief of losing a job," he said. "When you're out there projecting in a workplace, if you're carrying those bricks around of 'Why did I get laid off,' that won't help. You've got to be shining."
While it's important not to focus too much on the negative, not all commiserating is banned. Reintjes said she hopes people would use the club as a venue to cope with the stresses of job searching.
"In this room, I want people to feel comfortable enough to lay their feelings out," Reintjes told club members.
One of the biggest benefits of the club beyond networking is the support members provide to each other.
"These people get together and they support each other so well," Reintjes said. "They're looking out for each other and looking for jobs for each other. They talk beyond the meetings."
While the job club proved a useful tool six years ago, Schroeder admits he is not as optimistic this time around.
"There's too many of us that are highly educated that have been underemployed for years," he said. "Us baby boomers are getting killed."
However, Morgan said he sees the job clubs as the best source for employers looking to fill positions with quality employees.
"If I were starting up a new company, I would go into any of these job clubs to pick my staff, because I think these people are the best of the best," he said.