2008: Year's highlights in Shawnee include economy, elections, helping neighbors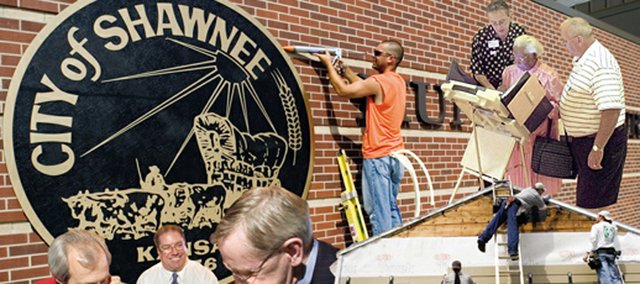 If 2008 were to be summed up in one word for Shawnee, one might have to borrow from the campaign slogan of the country's president-elect: change.
Not only did Shawnee get just as swept up in political fervor of the election year as the rest of the nation, but in many ways, changes came to Shawnee in 2008 as they hadn't in years, for better and for worse. The city opened its first new municipal buildings in nearly 15 years and moved in two major city departments; the "green" movement caught on in a big way, and the city stepped in to do its part; the city had its first murder since 2004; and the economy went into a recession, and Shawnee had to cut down an already water-tight budget.
The following are the top 10 stories of the year for Shawnee, in no particular order:
• The Shawnee Justice Center opens: The city watched eagerly as the new home of the Municipal Court, the Police Department and Fire Station No. 72 were completed and opened, capped with an open house and dedication event in September. Shawnee's Justice Center has been in the works since 2003, when the city first began to discuss the need for the new facility, and voters passed a special sales tax in 2004 to fund its construction. The $22 million buildings were constructed to environmentally-friendly specifications and came in, as Mayor Jeff Meyers said, under budget and on time.
• Elections pull population into political fervor: It was the year for politics in Shawnee, beginning with the Democratic and Republican caucuses in February. Both parties' caucus sites in Shawnee were nearly overwhelmed by the turnout. Then came the city's mayoral and City Council elections in April. The incumbents all beat out their challengers to retain their seats. The presidential election then grabbed voters' attention again, as they watched each party pick a candidate and then each candidate pick running mate. In an August primary, local voters passed a county-wide sales tax for public safety and took advantage of an in-person advance voting site in Shawnee for the first time. That location contributed to November's 80 percent voter turnout in the county. Because half of the registered voters had already voted in advance, long lines found elsewhere in the country were not a problem in Shawnee.
• De Soto school district passes bond issue: De Soto USD 232 was able to do in November 2008 what it had not successfully done in two previous tries: pass a bond referendum. The referendum was designed based upon results of a patron survey conducted at the start of 2008, asking what residents in the district thought the district needed most. The $75 million bond issue will provide for expansions to both De Soto and Mill Valley high schools and will build a new elementary school near 58th and Belmont in Shawnee. Two previous bond referendums for the district, in 2006 and 2007, had failed.
• Economy in recession: It wasn't official until November, but the economy was in a recession throughout the year, and Shawnee felt its effects in many ways. Food and fuel costs soared in the first half of the year, leaving school districts and cities scrambling to amend their budgets and forcing changes in driving and spending habits for consumers. Both Dillons grocery stores in Shawnee closed when the company decided to pull out of the Kansas City market, bumping the city's empty grocery store spaces to four. Developments like a Best Buy at Shawnee Mission Parkway and Maurer fell through, though others, like the Woodsonia West retail buildings and Widmer Shops, moved forward. Shawnee scaled back its projections for sales tax revenues for the year, cutting and adjusting its budget to match. However, despite a melt-down on Wall Street in September, end-of-the-year sales tax revenues for the city met those reduced projections.
• City budget tightens even further; services reduced: Despite the economy, the city held firm and did not increase its property taxes for the 2009 budget. But that did not come without costs. The city cut back services like snow removal, cut out city's program for street resurfacing and held up to 23 city employee positions open to save money. The city's budgeted expenditures in 2009 are set at $56 million, $2 million less than in 2007.
But one bright spot arose in September. The city's good fiscal policies earned it a rare upgrade in its bond rating, from an Aa3, which it has been since 1998, to an Aa2, saving the city an estimated $1.2 million on the sale of internal revenue bonds and refunding older bonds thanks to lower interest rates.
• Charity goes far: Economic woes did not trample the spirit of giving in Shawnee in 2008. The year saw the first efforts of a new group, Rebuilding Together Shawnee, which was able to gather funds and volunteers to help seven homeowners in Shawnee with much-needed home renovations — two of them almost complete reconstructions. The Mayor's Christmas Tree garnered $13,000 for the organization. And the Shawnee/Lenexa Relay for Life, an event raising funds for cancer research, stepped out of near-obscurity and raised more than $97,000 in its seventh-annual event in June. Shawnee Community Services received an unsolicited $25,000 grant in August, and when other area food pantries struggled, the local organization pushed forward valiantly to continue its annual efforts to provide hundreds of Thanksgiving and then Christmas dinners, as well as a children's Christmas party, to those in need.
• Johnson takes over Shawnee Mission: For the first time in 16 years, the Shawnee Mission School District has a new superintendent. Marjorie Kaplan retired from the second-largest school district in the state in June, and Gene Johnson, formerly associate superintendent for secondary administrative services, was selected as Kaplan's replacement. Johnson has been with the district for 21 years and was about to retire when he decided to apply for Kaplan's job. Johnson will oversee the last of the 2004 bond referendum projects, including improvements at Shawnee Mission Northwest High School, and said the biggest challenges the district faces are its enrollment continuing to decline and meeting No Child Left Behind mandates.
• Shawnee goes "green:" Recycling and other environmentally-friendly efforts have been discussed for years, but being "green" was never so prevalent as it was in 2008. The city created a sustainability committee or "green team" of city staff, had its first electronics recycling event, adopted environmentally-friendly operational policies such as the low-idling policy for city vehicles, started a pilot program to use solar panels to help power fire engines and started recycling in city parks, among other efforts. However, Deffenbaugh Industries reported the amount of recyclable materials it collects from Shawnee actually has been steadily dropping in recent years, and at the end of the year, the Council voted to have a mayor appoint a task force to discuss curbside recycling in the city.
• Shawnee — Good Starts Here: At the end of 2007, Shawnee hired a firm to help the city create a "brand," a sort of identity for the city that officials can use to better market it and set it apart from others in the Kansas City metro. At the beginning of 2008, research began to help define the city and what makes it unique, in the form of surveys, forums and interviews, both in and outside of Shawnee. A branding committee helped in the process and in November chose the brand for Shawnee, which includes the phrase "Good Starts Here" and a logo including a tree to symbolize the city's deep historical roots and branches growing toward the future. The goal of the brand was to communicate that Shawnee was for people who appreciate genuine quality, where a heritage of nourishing new beginnings continues today, so that every day offers a fresh opportunity.
• Reed charged in Osburn murder: The year ended on a sad note as the city marked its first homicide in three years and first murder investigation in four years on Thanksgiving. Christina Osburn, 21, was found dead in her Shawnee apartment on the holiday, and police put out a warrant for her boyfriend, Brandon Reed, 23. Two days later, he was arrested in a Texas county that borders Mexico, and he was extradited back to Kansas two weeks later. On Dec. 17, the Johnson County District Attorney's Office revealed that Osburn had been pregnant, and Reed was charged with two counts of murder and capital murder. His next court appearance to schedule a trial is Jan. 16. Another violent act changed Shawnee police policy in 2008, when in February, Alexander Ayers, 18, shot an officer responding to a disturbance at his home. The officer was wearing a bullet-proof vest and was not seriously injured, and the Police Department thenceforth made it mandatory for patrol officers to wear the vests, previously a voluntary act.