SM

North graduate at home with the 'Huskers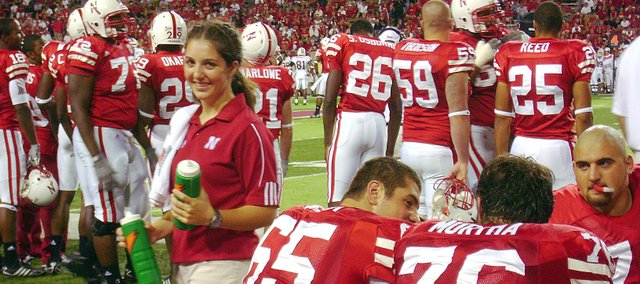 It's Christmas morning, but Laura Mertz is about to head to work.
The 2005 Shawnee Mission North graduate spent Christmas Eve and the early part of Christmas Day with her family in Shawnee. While most people are sitting down to eat, however, Mertz will be cruising down the highway back to Lincoln, Neb. She has to be at football practice later in the day, and the next morning she has a plane to catch.
Mertz, a University of Nebraska senior, is a student athletic trainer for the Cornhuskers' football team.
Nebraska made a rare bowl absence last year, but a resurgence in 2008 under first-year coach Bo Pelini earned the Cornhuskers a berth in the Gator Bowl on Thursday, Jan. 1, in Jacksonville, Fla.
Mertz is excited about the trip for a number of reasons.
"I've never been to a bowl game before, as an athletic trainer or as a fan. I don't know what to expect," she said. "I'm just looking forward to the experience, seeing what a bowl game is all about with the celebrations and welcome parties that are put on by the sponsors of the bowl.
"And …" she adds with a laugh, "I'm definitely looking forward to the 60- to 70-degree weather that it's supposed to be when we get there."
LEARNING THE ROPES
Mertz still remembers the moment she felt her calling to work as an athletic trainer. She was a sophomore at North and a member of the volleyball team. She got hurt. It was nothing serious, but she was forced to miss a few days of practice. The school's athletic trainer helped her rehabilitate and return to competition quickly.
At about the same time as the injury, the school had a career fair where students could look into potential occupations.
"I had no idea what I wanted to be, so I looked into athletic training," Mertz said.
Mertz began pursuing a degree in athletic training during her freshman year at Nebraska. After two semesters of coursework she was accepted into the program.
A year later she began working as a student trainer. During her first semester as a sophomore she worked with the women's soccer team and later helped out with football. She spent her second semester with the Cornhuskers' softball team and women's swimming and diving team.
"Your sophomore year you work with four teams," she said. "Part of the educational program is that they want you to get experience working with (multiple) sports."
She spent her entire junior year as the student trainer for swimming and diving, and also assisted with spring football.
This season Mertz has spent all of her time as a trainer with the football team. It has been an exciting season to be a part of the Cornhuskers' football program. There is a new coach. The team is bowl-bound for the first time since the 2006 season. The fan base is reenergized. Mertz has been there to witness it on a daily basis, from the practice field to the training room to the sidelines on game day.
Through it all , both this year and in previous seasons with other sports, Mertz has savored her experience as an athletic trainer. She doesn't play favorites with sports, noting that every one is different.
"Football is very time consuming, but it also has a high-cost, high-reward kind of thing," she said. "But I also really enjoyed working with the soccer team because it's a smaller team so there's obviously fewer staff and fewer student trainers assigned to soccer, so I was able to do a lot more. I was on the sidelines for every single home soccer game and I was at home swim meets and in the dugout for home softball games. I went to Omaha with the swim team my sophomore year and also went to the meet at KU last year.
"They're all so different, and they are different in terms of injuries and in terms of the kinds of people on the team. You deal with the athletes differently based on their personalities, and it really helps you have a well-rounded experience in athletic training."
BOWL-BOUND
Although she doesn't play favorites, the 2008 football season has earned a special place in Mertz's heart. She has witnessed so much while having an inside view of the program's resurgence.
She enjoys her relationship with the athletes she cares for. She enjoys traveling with the team and spending time with other trainers. She loves learning from every new experience.
"A lot of what I really enjoy experiencing actually happens before the game," she said. "I was able to go on three of our four road games — Iowa State, Kansas State and Oklahoma — and we got to the stadium in Norman (Okla.) pretty far in advance, so we were able to go out on the field before anybody else except the staff at the stadium. We saw their big video board and took pictures and walked around while it was empty. And then to go out there after the seats had all been filled and fans are screaming, that was pretty cool.
"But once the game gets going, you're focused on what you're doing and you are so busy that you don't get the chance to soak all that in."
Mertz expects the bowl game to be the same way. She will savor the festivities surrounding the game. She will enjoy the pre-game activities. Then it will be time to really get to work. Depending on her duties for the game, she may get to watch some of the game or she may be busy constantly.
"It really depends on what your job is," she said. "You do have a little bit of time to enjoy the moment and watch a little bit of the game. Lots of times most of what I see at the game is on the video board on replays. But depending on what your job is you're able to watch a lot of the game. Sometimes your job is to stand behind the coaches and give water to players coming off the field. If you do that, you (see a lot of the game)."
BEYOND THE FIELD
Mertz will help out with spring football practices, but the Gator Bowl trip is essentially her final hurrah as a student athletic trainer.
After graduating this spring, she plans to attend graduate school. She has applied to a program at the University of Indiana in Bloomington that focuses on performing arts medicine. She will find out in January if she has been accepted into the program.
"You can work with dancers, instrumentalists … not just ballet or modern dance people, but also professional programs like Blue Man Group and Cirque du Soleil," she said. "They work with athletic trainers, and some have (trainers) on their staff."
Mertz said the program would open up a wide range of possibilities for her, from working in clinics that specialize in the performing arts, to possibly traveling the country with a professional group.
Some day Mertz hopes to start her own business.
"Eventually I want to open my own clinic geared to performing artists," she said.