Caucus packs house
Larger than expected turnout fills Mill Valley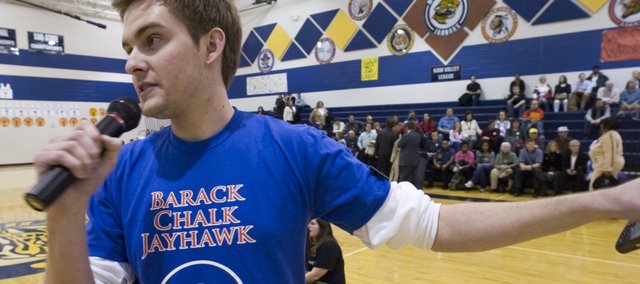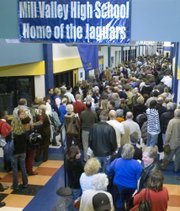 Shortly after the doors closed to caucus participants in the 10th Senate District at Mill Valley High School in Shawnee, volunteer Hannah Beaker gazed at the packed hallway.
By 7 p.m., Mill Valley's main hallway was even more crowded than it gets during the school day, and that's saying something for the overcrowded school.
"This is a mad house," said Beaker, a Mill Valley senior, covering her face with her hands. "Somebody said there's something like 3,000 people here."
Actually, about 1,500 turned out for the Democratic caucus on Super Tuesday, but with a basketball game going on in the gymnasium, there were certainly several hundred more in the school for other reasons, which only created more confusion.
The caucus was meant to be held in the Mill Valley theater, which could normally seats about 350. But with doors opening at 6 p.m., it took about two and a half hours simply to get everyone signed in.
Organizers quickly asked observers and media to leave the theater to create room and soon started to clear out classrooms, as the gym was still in use.
"We're building contingency plans to get you in other rooms to caucus," Joe Novak, Mill Valley's principal, promised the crowd. "I wish I could wave a wand and have enough room for everybody to have a seat."
The temperature quickly rose in the theater, and caucus participants fanned themselves as they took turns cheering for their candidate of choice. A small cheer went out for John Edwards, but it was clear a majority supported Barack Obama, with a smaller majority supporting Hillary Clinton.
In the production box above the theatre, some students hung out to observe the process, as did Karen Kline of Shawnee, who just wanted to observe while her daughter played in the band in the gym.
"I'm just shocked and I'm so thrilled that so many people came in spite of the weather," she said, looking over the crowd. "When you're over half a century old and you get to witness a historic event like this, this is going to change history."
Kline herself had yet to choose a side, not even one divided by party lines.
"This year I've decided to vote for the best candidate," she said. "I was a democrat for years; then I switched to republican. Now I'm going to vote for whoever is the best."
At 8:30, with everyone finally checked in, Obama supporters began to move out of the theater, and once the basketball game was over at 9 p.m., they moved from various classrooms to the gym. Some became fed up with the process; volunteers estimated that about 100 people left due to the late hour or their frustration with the disorganized process.
In the theater, Clinton supporters counted off and came up with 405. Numbers were not announced for Obama supporters as they attempted a final count using white cards given to each person who signed in. Novak promised that white cards collected from those who left earlier would be counted.
In the end, however, there wasn't enough support for any other candidates, so anyone undecided chose between Obama and Clinton. Novak announced the numbers to which each group agreed: Obama would get 11 of the 10th District's delegates, and Clinton would get 4.