Not your typical All-American
Shawnee gymnast takes non-traditional road to the top at Ohio State University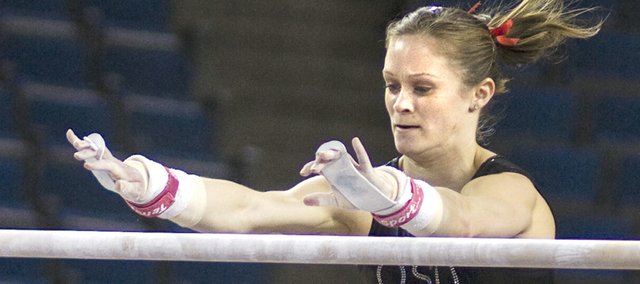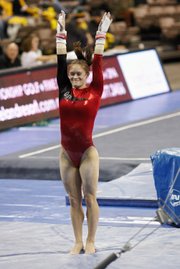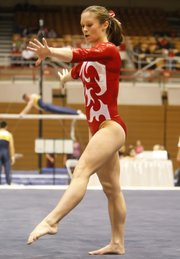 For years Kaylan Clevinger dreamed of being the girl in the picture.
The girl, in this case, was Mary Lou Retton. The picture - a gift from her parents for her 12th birthday - included frame-by-frame still shots of the American gymnast from approach to landing in the vault in 1984 when she stuck the first perfect 10 by a U.S. women's gymnast in Olympic history.
Kaylan adored that picture and hung it prominently in the bedroom of her Shawnee home. It motivated and inspired her during her days as a student at Notre Dame de Sion High School and as a competitor for coach Kim Fuchs at Eagles Gymnastics in Kansas City, Mo., and it fueled her desire as she earned a full-ride gymnastics scholarship to Ohio State University.
"I've kept that picture," Kaylan said. "It's still up on my wall in my apartment. She's always been a huge inspiration to me, being as small as she is and as spirited."
Then came the next picture, and Kaylan wanted to be in it too. This time it was a mural in the Ohio State practice facility.
"There's this shadow, and at the bottom there's a plaque that says 'future star' with a question mark by it," she said. "They put that up my sophomore year, and that was one of the things I always wanted. Every time I went into the gym I was like 'I'm going to be up on the wall. I really want that to be me.'"
Now 22, Kaylan's dream soon will become a reality.
After more than a decade toiling in the gym, dancing across the mat on the floor exercise and flipping through the air on the uneven parallel bars, she will become the girl in the picture - an inspiration for future gymnasts.
Kaylan, a senior at Ohio State, became just the fifth female gymnast in Buckeye history to earn All-American honors when she scored a near-perfect 9.90 on the bars and tied for fifth place at the NCAA Women's Gymnastics Championships on April 24 at Stegeman Coliseum at the University of Georgia.
She finished 15th overall in the all-around competition with a score of 38.9. She posted a 9.65 in the vault, 9.55 on the beam and 9.80 on the floor exercise.
OSU has another mural in its gymnastics facility featuring the program's All-Americans. Her image soon will be added to the wall.
It was the perfect ending to a career that was remarkable in numerous ways, from its late start, to the unusual college choice, to the future endeavors it has created for her.
LATE BLOOMER
Ask just about any top-tier female gymnast when she first participated in her sport, and the typical answer will be 2, 3, maybe 4 years old.
The only part of Kaylan's story that's typical is her 5-foot-2 height, normal stature for a gymnast.
Ralph and Kathy Clevinger didn't push any of their four children - all eventual college athletes - into participating in competitive sports. Instead Kaylan had a well-rounded upbringing, something for which she says she is thankful.
She was exposed to various sports before falling in love with gymnastics after watching the Magnificent Seven U.S. women's gymnastics team win gold at the 1996 Olympics.
Captivated, an 11-year-old Kaylan begged her parents to let her try gymnastics.
By the sport's standards she was starting late in the game, but she was a quick learner.
She joined McCracken's Gymnastics in Olathe and later moved to Eagles Gymnastics. She began collecting ribbons, medals and trophies while rapidly ascending the sport's ranks. She won two Kansas state championships, two Missouri state championships and a Level 9 national title.
BECOMING A BUCKEYE
Winning the national championship in 2003 put her on the Division I map, and large schools started calling. Among them was her dream school, Michigan, where her father attended college and played baseball.
"Michigan had a spot for me on their team, but only as a walk-on," Kaylan said.
Kaylan considered that option, but after receiving a call from then-OSU assistant coach Carrie Fagan - now the program's head coach - Kaylan had a change of heart. Fagan talked up the program, said all the right things and offered Kaylan a scholarship. She agreed to become a Buckeye without even taking a campus visit.
"I had a really good feeling about it, and sometimes you've just got to go with that," she said of her decision to sign a letter of intent with Michigan's arch-rival.
Ralph blessed the decision, sensing the OSU program would provide a variety of opportunities for his daughter.
"My only expectations were for her to grow in character, to assume a leadership responsibility and become the strongest team contributor she could possibly be," said Ralph, who raised his kids on "Rudy," the "Rocky" movies and the team-first ideals of legendary Michigan football coach Bo Schembechler. "That, and I wanted her to come away from it with no regrets."
BREAK THROUGH AND CONQUER
Just like she got a late start as a gymnast, Kaylan's college career faced an early delay. This time it wasn't by choice, however. Instead, it was injury-related.
Shortly after arriving on campus in Columbus, Ohio, she fractured her lower back. Her freshman season ended before it ever began. The recovery process was long and agonizing, and she was almost completely immobilized.
"You do what you've got to do, and I was determined to come back and prove that I belonged at Ohio State and that I belonged on the team," she said.
Kaylan returned with a vengeance as a sophomore. She was one of the Buckeyes' top performers on the vault and earned the team's Most Improved Award.
As a junior she was Ohio State's top performer on the bars - her favorite event. She received the team's 'O'chievement Award as the team's MVP, was a co-recipient of the team's Power Club Award, earned first-team All-Big Ten Conference honors and qualified individually for the NCAA Championships on the bars.
For all of the successes, it was one failure that stuck in Kaylan's mind.
"I fell at nationals. It was the first routine that I had fallen on all year, and it was the last routine that I was going to do that year, so I was really disappointed," she said.
From adversity came motivation, however, and Kaylan was quick to seize upon it.
As hard as she'd worked the previous summer, she committed even more in preparation for her senior campaign.
"I had a little fire underneath me," she said. "That was a big motivation to go back there and do it right."
As a senior, Kaylan served as the Buckeyes' team captain and led them to a No. 18 national ranking. She earned second-team All-Big Ten honors, won her second straight team MVP honor and returned to nationals - this time in the all-around competition.
Kaylan said she knew she'd earned All-American status the moment she stuck the landing on her bar routine. Every twist, every turn, every bar exchange was graceful. The dismount was solid. Her face glowed with excitement.
"Once I got done with my bar routine and I ran over to my coaches, we celebrated a little bit because I did a good bar routine : and I saw my score," she said of her career-best 9.90. "I got a little teary-eyed because I knew that my score was going to carry well. I knew that I had actually done it after that."
The scene in the stands was pandemonium.
Kaylan's older sister Monica and younger brother Peter surged from their seats in celebration. Ralph and Kathy hugged and cried.
"When she hit that landing and her arms went up, it was like an exclamation point. She looked like an exclamation point. It was like 'I did it,'" Ralph said of his daughter. "She knew she was doing it while she was in the air. She knew that she was rolling, and we saw that on her face as well."
A few minutes later, older brother Aaron, a 1st lieutenant in the Marines, called from Hawaii and choked up at the news.
"Those are such special moments that bring the family together," Ralph said.
THE NEXT STEP
Kaylan's gymnastics career began as a dreamer, but it concludes with her becoming the girl in the picture. She and her family attended the team's banquet on Saturday and the picture of her mural was revealed.
The feat has opened up numerous doors for Kaylan. She will finish her degree in nutrition next spring. She plans to attend nursing school after that, but in the meantime she is working as a gymnastics coach in Ohio. She also was invited to be a guest speaker at the Region V Gymnastics Banquet on June 28in Indiana. She will share her story as somebody who got into gymnastics late and still climbed the ranks of the nation's elite.
She's also going to share her story in a book. She hopes to have it finished this summer to capitalize on the excitement generated by the Olympics when gymnastics is thrust back into the national spotlight.
After that she will focus on a few more camera-ready moments. There will be graduation, of course. Perhaps the biggest photographic moment, however, will also take place in another sports arena at Ohio State - the football stadium - where she plans to bring her Michigan-loving father to a game. They made a similar trip to Michigan last fall where the Michigan grad and the Ohio State All-American laughed, cheered and snapped a few pictures while wearing their rival schools' colors.
When it comes to football they might not see eye-to-eye, but gymnastics will always be another story.
"Michigan, I'd like to think, may have regretted not granting her a full scholarship," Ralph said. "And as much as that would've been great for dad, it's OK because everything worked out even better."
THE KAYLAN CLEVINGER FILE
Junior High/High School
- Two-time Kansas state champ
- Two-time Missouri state champ
- Level 9 national champion
- Nominee for Sports Illustrated Student-Athlete of the Year in 2004
2005 Ohio State University
- Missed full freshman season with fractured back
2006 Ohio State University
- Earned Most Improved Gymnast award after bouncing back from injury
2007 Ohio State University
- First-team All-Big Ten Conference selection
- Team MVP
- NCAA regional champion (bars)
- NCAA Championships qualifier (bars)
2008 Ohio State University
- All-American (bars)
- Fifth at NCAA Championships (bars)
- 15th at NCAA Championships (all-around)
- NCAA Championships qualifier (all-around)
- Ohio State team captain
- Team MVP
- Second-team All-Big Ten Conference
- Third place in bars at Big Ten championships
- Fifth All-American in Ohio State women's gymnastics history
More like this story