Store crafty with its recycling
Wonderscope Museum offers repurposed donations on the cheap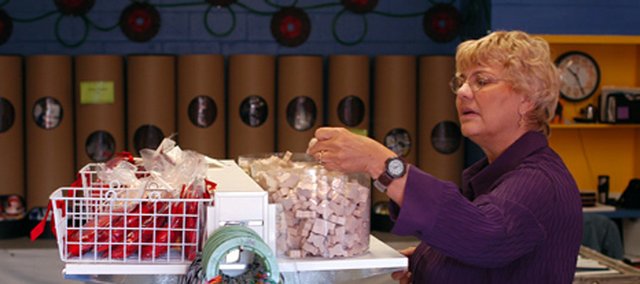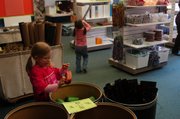 Anne Wilson was discussing ideas for craft projects and available supplies with a customer when Anne Graham overheard her.
"You have magnets? Yes!" Graham exclaimed in triumph.
It's a common reaction for the customers of the Repurpose, iMagine, Create store at Wonderscope Children's Museum of Kansas City, 5705 Flint St. As its stock is based on donations, Wilson, store manager, said many customers don't realize just how much the store has, whether it's the type of supplies or the quantity.
"A teacher came in the other day and said 'Oh, I wanted some of those, but I needed 100,'" Wilson said, pointing to a bin of paper towel tubes. "And I said 'Wait just a second, there are more upstairs.' So she got what she needed, though I think she nearly cleared us out — we only had two or three left after that."
The store, called the RMC, has been open for about a month now in the museum after moving from the former site of the Children's Museum of Kansas City, Kan. The store takes items donated by businesses or individuals and resells them as craft supplies, most falling in a price range from one penny to $1 each.
Whether it's felt, poster board, ribbon or recycled household items that can be used in crafts, like egg cartons, coffee cans, bubble wrap or water bottles, the RMC is likely to have it.
"So people who have or work with children have a really great resource for craft supplies," Wilson said.
The store formerly was known as the Recycled Materials Center, created at the Learning Exchange in Kansas City, Mo., before it moved to the Children's Museum of Kansas City in 1992. When that museum merged with Wonderscope earlier this year, it was decided a name change for the RMC was in order.
"People thought we were a curbside recycling center," Wilson said. "We needed people to understand that we're more about repurposing and reusing."
The idea is spreading. Wilson said when she arrived Saturday morning, she had four boxes full of donations waiting for her. In addition to donations from individuals, Wilson said many of the companies that have donated to the RMC in the past are continuing to donate, and she's also had a few calls from new companies.
Over the weekend, Wonderscope celebrated America Recycles Day on Saturday by letting all children who were visiting add their own touch to a new RMC sign with recycled materials, and many museum visitors checked out the store for the first time.
Graham was gathering supplies for Christmas projects, something she did often in her former career as a daycare manager in Shawnee. Now she lives in Mishiwaka, Ind., but she was back in the area visiting family over the weekend when she heard that the store had moved, so she decided to stop in. She quickly loaded up a bag full of items.
"My friend takes care of kids, so we're going to make some stuff and have fun," Graham said. "Where else can you get all this for, let's see, I'm up to about $5. And now it's even closer to home."
Wilson said customers have great ideas for making crafts from recycled items, but they aren't left entirely to their own devices. The store creates a few crafts of its own to give customers ideas, which Wilson hopes to feature on the museum Web site, wonderscope.org.
Linda Clay was another longtime store customer who was checking out the new location for the first time Saturday.
"I'm a librarian in Lawrence, and I do crafts after storytime, so I come in for supplies a lot," Clay said. "I've gotten so many wonderful ideas."
The RMC is open during regular museum hours, 10 a.m. to 5 p.m. Tuesday – Saturday and 12 to 5 p.m. Sunday. Donations can be dropped off or companies can schedule a time to have donations picked up. Donors should call 268-4176 with questions about specific donations.