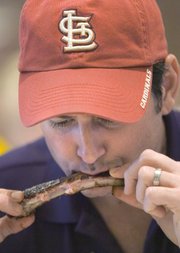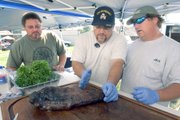 Bob Mathis and his barbecuing team finished in ninth place in the chicken category of this year's Shawnee Great Grillers State Championship.
For the most part, though, Mathis' team — No Adult Supervision — was shut out of the top 10 this past weekend.
But that didn't matter so much to Mathis.
"We're in it for the fun," said Mathis, whose team includes his brother, Jim, son Bobby, and longtime friend Tom Bittner. "We go into these thinking if we win a ribbon, it's just a bonus. If the fun stops, we're out."
This year, 102 teams were entered in Great Grillers, which brought hundreds of visitors to Shawnee Town for two days of charcoal smoke filling the air, tasty smoked meats tickling the taste buds, free concerts and fun for all ages.
Taking home the grand champion title was Munchin Hogs @ the Hilton, a Prairie Village-based team led by Robert Magee. Brew n Bar-B-Que finished as reserve champions.
No Adult Supervision has participated in 13 of 14 of the Great Grillers competitions, missing only the inaugural year. In those 13 appearances, Mathis estimates No Adult Supervision has taken home 20 or 25 ribbons and a couple of plaques.
The team members load up their equipment and hit the barbecuing competition circuit about five times a summer. Their sponsors include Mathis' employer, Molle Toyota, and Tetra Tech, a Lenexa-based firm.
Great Grillers is one of No Adult Supervision's favorite competitions for several reasons. For one, with the exception of Bittner, an Overland Park resident, all of the team members are from Shawnee. After starting their fires started and getting their preparation work out of the way, the team members use Great Grillers to conduct a party for friends and family at their cooking station on the first night of the competition.
"We had about 60 people Friday night," Mathis said about their party this year. "That's small for us. We served food, had some home-brewed beer and listened to the music. (We had) lots of family and lots of friends. That's why we like it here."
As with all the Kansas City Barbecue Society-sanctioned events, once daybreak came Saturday, it was all business.
Bigger cuts of meat — brisket and pork butt — had been smoking throughout the night. Other cuts were put on the smokers in the morning, and No Adult Supervision — along with all the other teams entered in the competition — continued preparations for the first in a series of entry deadlines every 30 minutes, beginning with chicken at 11:30 a.m.
Mathis said team members felt good about their first entry of the day.
"We knew when the chicken came off the grill and was being prepped, it had a chance," he said.
As with many, Mathis holds his barbecuing secrets close to his vest — "It's all in the preparation" — but he said his chicken recipe starts with marinating the bird pieces. "Then I like to smoke it slow and grill it at the end to give it that nice, good finish," he said.
Pork rib entries were due at noon, and Mathis again. "I thought our ribs were outstanding," he said. "But a lot of times you think something is good, and the judges think a different way."
The pork entries were followed by pork butt and beef brisket. In addition, No Adult Supervision also entered the optional sausage competition, finishing 20th out of 90 entries.
"Three or four years ago, we finished in first place in sausage with a perfect score," Mathis recalled. "That was pretty neat."
In the overall competition this past weekend, No Adult Supervision placed right in the middle of the pack — 51st out of 102 teams. The team packed up and went home for the day, only to get together again Sunday for beer and barbecue at a celebration marking the end of chemotherapy treatments for the wife of a "guest cook" at the Great Grillers.
"I'm sure there's a point where you can eat too much barbecue," Mathis joked, "but I haven't gotten to that point yet."