Rebuilding Together Shawnee begins fall home renovations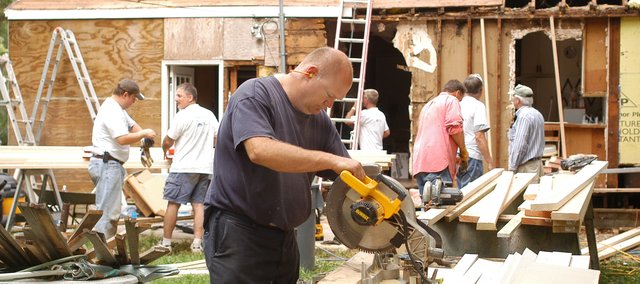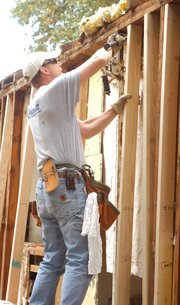 Lisa McNeil and her dog, Buster, watched the work at her Shawnee home Saturday with wonder.
Buster strained against his leash at times as the 40 or so Rebuilding Together Shawnee volunteers wandered through McNeil's property, intrigued by all the activity. But it was even more interesting for Buster's owner.
"Interesting doesn't begin to cover it," McNeil said. "I've been waiting for this day for so long. It's a miracle, as far as I'm concerned."
In the next few weeks, McNeil's home will receive extensive renovations, thanks to the Shawnee organization. McNeil's is one of two homes included in its fall projects. It's just the second time the group, founded in 2007, has gathered volunteers to repair homes for Shawnee residents in need. But with three grants awarded to Rebuilding Together Shawnee, and more volunteers signing up to help, the group is proving it has power to make some major changes for the better.
Major changes were under way at McNeil's home, east of Quivira Road near 71st Street. The roof was leaking so badly that water damage was causing the ceiling inside the house to fall in. The leaks had caused extensive wood rot at the rear of the house — the entire back wall of the house will be replaced, along with windows on the front of the house.
"What we're trying to do is get her in the dry and keep her warm, as much as we can," said Mike Walberg, team leader for the project site.
McNeil lives on disability payments, which doesn't leave much for major home improvements or repairs. While she says she's learned how to fix a few things herself, the problems with her home have long been beyond her ability to repair.
"I've needed the help for a long time, and these guys really came through," McNeil said.
The other home receiving repairs Saturday belonged to a World War II veteran. His daughter, Donna Rowland, applied through rebuildingtogethershawnee.org after reading about the group's spring home renovation projects in the newspaper.
"I thought, 'Well, my dad could use some help with some stuff,' and it sounded like something he could qualify for," she said. "… He just wasn't able to keep up with the repairs, and we weren't able to, either."
Rowland said she forgot about the application until a few weeks later, when Rebuilding Together Shawnee called and a representative stopped by for a followup interview.
"They said they would do it, and I was overjoyed," Rowland said.
Rowland's father's home received new front steps, new paint and some items like safety rails to help him get around the house easily.
This time around, Rebuilding Together Shawnee gathered 60 volunteers between two projects, compared to 100 spread across the group's five different projects in the spring.
Most volunteers were based at McNeil's home, a majority of them part of the St. Joseph Catholic Church group that volunteered in the spring and has volunteered for the Christmas in October organization in the past. Walberg said that since the group began working with Rebuilding Together Shawnee, it has seen a much greater response in the call for volunteers.
"I think working right here in our own neighborhood has helped," Walberg said.
Three major grants also have helped the group's projects move forward. In August, the group received a $6,000 grant from the Heroes at Home foundation to help repair the World War II veteran's home. A month later, they received a $1,000 grant from the Shawnee Wal-Mart.
And most recently, Lowe's Charitable and Education Foundation awarded Rebuilding Together Shawnee with an $8,700 grant, used on McNeil's house.
Mayor Jeff Meyers recently announced that Rebuilding Together Shawnee would be the benefactor of this year's Mayor's Christmas Tree Fund.
Financial donations are being collected, and a check will be presented to Rebuilding Together Shawnee at the Mayor's Tree Lighting Dec. 6 in downtown Shawnee. For more information or to make a donation, please contact Shawnee City Hall, (913) 631-2500 or bmoser@cityofshawnee.org.
More like this story