City, volunteers clean up illegal dump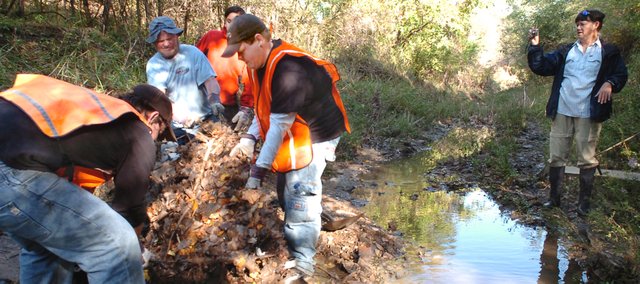 The largest landfill in the region should be enough for one city, but Shawnee officials and ecological activists have discovered an illegal dumping site in Shawnee.
The site is just a mile and a half west of the Johnson County Landfill, discovered when city officials were surveying the area for a bridge project. People have been dumping everything from trash to home appliances in the area, north and south of 43rd Street in the 21800 block along a stream that leads to the Kansas River.
"There's even stoves; people just back up and illegally dump whatever they've got," Paul Lindstrom, city project engineer, said. "I even saw the back of a camper shell. It's out in the middle of nowhere, so I'm sure people are doing it at night. There's not a lot of traffic, so it's hard to monitor."
But on Saturday, city employees and several volunteers spent four hours cleaning up the area as best they could.
Lindstrom said the most of the property was owned by the Burlington-Northern Santa Fe Railroad, but some of the property was considered city right-of-way. City officials happened to discover the extent of the dumping on the same early-spring day that D.J. Zarda, Shawnee resident and ecological activist, was showing the area to Laura Calwell, Kansas Riverkeeper and leader of the Friends of the Kaw organization.
Lindstrom said he spoke with Calwell about the group's concerns of pollution from the dumping area reaching the river. They applied for funding available through the Kansas Department of Health and Environment to clean up illegal dump sites. The state visited the site and found it qualified for funding.
So on Saturday, 14 Shawnee's Public Works Department employees used city equipment to help clean the site, with the state reimbursing the city for any costs. About 10 Friends of the Kaw volunteers helped out.
The cleanup crew walked the creek from the railroad tracks to the river, hauling out sofas, refrigerators, televisions, mattresses and about 20 tires. Lindstrom said it's clear people have been dumping items on the property for years.
"It does surprise you of what people are throwing in there, and they think that's OK to do," he said.
Among those helping were Marisa Billie, Emily McKinney and Lynne and Margaret Bodle, members of Lawrence Girl Scout Troop 7660.
Margaret Bodle, a troop leader, said the troop often helps the Friends of the Kaw on its projects.
"It's really important service, and it's really important to have a sense of the Earth around you," she said.