Lessons from 'the Oracle'
Shawnee student among K-Staters in Q&A session with Buffett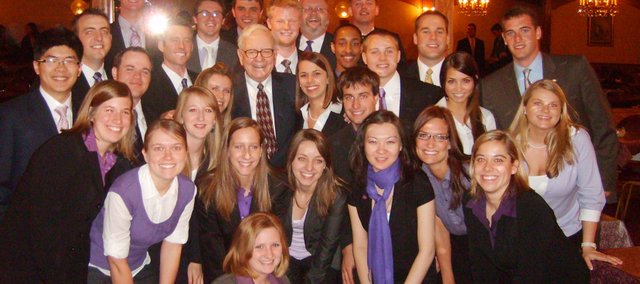 After meeting one of the world's richest and most successful investors, Laura Liston of Shawnee said she came away with a truckload of financial and life lessons.
Liston, senior in accounting and finance at Kansas State University, is president of the school's Student Finance Association. On Friday, the group met with Warren Buffett, CEO and chairman of Berkshire Hathaway, for a two-hour question-and-answer session in Omaha, Neb.
Liston said Buffett, the "Oracle of Omaha," lived up to his reputation.
"Aside from being brilliant, he is hilarious," Liston said. "Mr. Buffett started the question-and-answer session with a couple jokes and really set the mood for the day. He is a very charismatic individual and has a million stories to tell."
Liston is a lifelong Shawnee resident and 2005 graduate of Shawnee Mission Northwest High School. She said she knew from a young age that she wanted to do something in business and took accounting classes in high school.
Once she got to K-State, she began a track for an accounting degree and later added a finance major, as well. She joined the Student Finance Association as a sophomore and last year was elected its president. Her election meant three of the association's last four presidents were Northwest graduates — previous presidents include Katie Haller, 2005-06, and Brittany Bruns, 2006-07.
Thanks to letter-writing efforts of Greg Foote, the association's fixed-income manager, the group was able to join groups from other schools last week to meet with Buffett at Berkshire Hathaway's headquarters, followed by a two-hour lunch at one of Buffett's favorite restaurants. The visit also included tours and sessions with top executives at Berkshire Hathaway subsidiaries Nebraska Furniture Mart and Borsheim's, a jewelry store.
Liston said she already knew a good deal about Buffett from her father, who she said is a very business-minded person, and her college courses. But Liston learned a lot more from the time students spent with Buffett, covering topics like the change in consumer psychology, the way people invest, the importance of whom you associate with, "green" practices in business and philanthropy.
"I don't know that anything out of his mouth could not be considered advice," Liston said.
She said Buffett told students that everyone has a 400 horsepower machine inside them; some people get out 350 while others only use 100. It's all there, you just have to use it. "This went along with his discussion of the fact that you elect your own behaviors," she said. "Essentially, all the desirable habits someone can have are available for the taking; you can have them if you want them."
Buffett also had a lot to say about whom you associate with in business.
"When one of our members asked him what his most satisfying investment has been and why, his response, pure and simple, was 'my marriage license,'" she said. "His advice was to look for someone that brings out the best in you and always pushes you to be better. Along with that, he suggested working for the person you admire the most."
Buffett also said he found the toughest decisions he made in his philanthropy, because he always tackled the toughest issues through his philanthropic work.
"Mr. Buffett will always say that he absolutely loves what he does, and that's why he's so happy coming to work every day," Liston added. "He stressed that you want people who love their job because they love what they do, not because they love the money."
The students got to see even more of Buffett's laid-back and carefree attitude at lunch, as he posed for pictures with students, acting as if he was proposing to one girl and doing a disco stance with another student underneath a large disco ball hanging from the restaurant's ceiling.
Liston said Buffett's humor and general demeanor impacted her the most.
"For being so incredibly wealthy and smart and basically a celebrity, it was amazing to see that he doesn't take himself too seriously," she said. "He is very down to earth and he spent most of his Friday with college students, helping shape the minds of the future."
Liston said she hoped the Wildcats made a good enough impression to become one of the schools that is invited back to meet with Buffett annually.
"This was such an incredible opportunity for Student Finance Association and Kansas State that we really do hope this will become an annual trip," she said. "I do believe that we presented ourselves well and really put our best foot forward."