Mill Valley play goes behind the curtain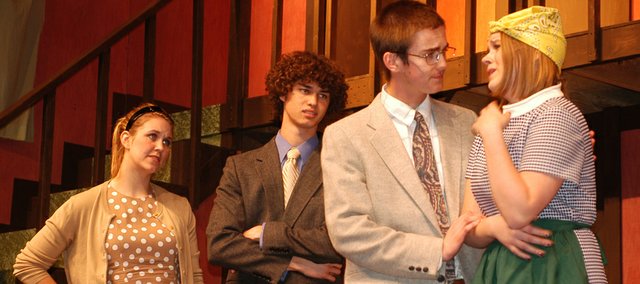 Mill Valley High School theatergoers will get a taste of life behind the scenes, literally.
"Noises Off" hits the stage this weekend in the Mill Valley auditorium.
The farce, based on a play within a play, takes place during rehearsal of a Broadway show.
The three-act production follows cast members over eight weeks of rehearsals.
Each act features the same scene from the Broadway play. While the scenes are essentially the same, drama increases as personal conflicts heat up.
The first act surrounds dress rehearsal the night before the play's opening.
Between Act 1 and Act 2 the set is turned 180-degrees, so to give audience members a behind-the-scene look.
The backstage view of Act 2 shows the deteriorating relationships of the actors.
Act 3 sees the set turned back to its original place. The play's run on Broadway has nearly ended and friction between characters has reached a point of chaos.
Rick Brown, director, said "Noises Off" was a unique and funny way to see a show.
The cast consists of nine students, while the stage crew has 10 members.
Bob Velazquez, director, said the goal of the school's fall musical and spring play is to get as many students involved as possible.
"Musicals are always big," he said. "With this play, we went the other way with a smaller cast."
Velazquez said this year's show was challenging for students.
"There are a lot of timing issues," he said. "The second act is the most challenging. The audience sees backstage. The actors have to talk quietly because they are backstage. They are angry with each other and try to take revenge. It's really quite humorous."
Performances of "Noises Off" begin at 7 p.m. Friday and Saturday in the Mill Valley High School auditorium. Tickets are $5 at the door.