Reed sentenced to life without parole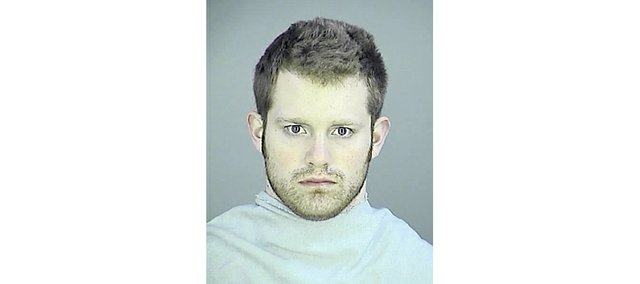 A Shawnee man was sentenced Thursday to life in prison in the November murder of his girlfriend and their unborn child.
Brandon Reed, 23, pleaded guilty to capital murder Feb. 23 after Johnson County District Attorney Steve Howe's office agreed it would not seek the death penalty and would drop the murder charge in the death of the unborn child. Before the judge pronounced the sentence, Howe read a statement from the victim's family, expressing grief in their loss and asking for tougher penalties for abusers.
Police found Christina Osburn, 21, dead Nov. 27, Thanksgiving Day, in her Shawnee apartment. They discovered Reed had killed her the day before and then fled the area, calling family members to say goodbye. Reed was apprehended Nov. 29 in southern Texas after authorities found his burning car 60 miles from the Mexican border, and he admitted to the murder while being held there.
Reed had already been on probation for violation of a protection order with his ex-wife and for arson for setting her car on fire.
In a statement read by Howe, Osburn's family expressed their appreciation to the Shawnee Police Department and Howe's office, and to anyone else who helped in Reed's apprehension.
The statement recounted Osburn's death, how Reed beat her, slit her throat and then held the apartment door closed so she could not run for help. Though the family had agreed to the plea bargain, they said they still believed Reed deserved the death penalty.
"(Reed) should have to experience the same death he bestowed on Christina while looking into the face of evil as she did," the statement read.
Family members said they were trying to forgive Reed but found it difficult. The family revealed it had named Osburn's unborn daughter Sophia Lynn Osburn.
"You cheated yourself out of a life of possibility," the statement read, addressing Reed. "You cheated yourself out of the love of an intelligent, hard-working, beautiful young woman who loved your two small sons from your first marriage. You cheated yourself out of your own precious baby girl."
The family also remembered Osburn as "forgiving, loving and precious."
"Her friends called her 'the mother' of their group because Christina was the first to act when someone needed help," it read. "… when Christina would hug you, it was full of love. You felt it from her heart."
Osburn, a 2006 graduate of Maranatha Academy in Shawnee, was working two jobs while attending Johnson County Community College, hoping to go into social work with children or become a psychologist.
"Her laughter was contagious, her smile was heartwarming," the statement read. "Christina was truly a free spirit. She loved with all her being and heart. She would have been a shining light in our community."
In the statement read in court and another released to the media, the family asked for tougher penalties for those with a record of abuse and urged anyone in an abusive relationship to seek help.
Reed did not make a statement during the hearing, which his attorney said was "out of respect for the family."
Howe said Reed's early guilty plea to the capital murder charge may be unprecedented in the county.
"We searched our records and we could not find the last time someone plea bargained to capital murder before the preliminary hearing," Howe said after the sentencing. "But we take it as this – it has helped the family get some closure on this and we are very happy to be able to give them the closure they need and to serve justice in this case."
Howe acknowledged the Osburn family's request for stiffer penalties for abusers. He said he thought Johnson County had a better system than most when it came to preventing repeat offenders, but it couldn't always predict future violence.
"It's not a perfect system and unfortunately, these tragic situations do occur," he said.