Mill Valley's Newhouse to return to court at college level
Versatile point guard eager to play again after knee injury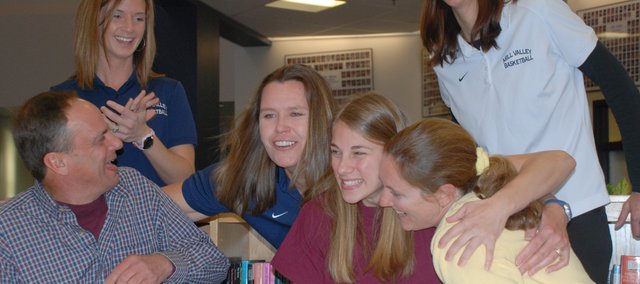 Almost seven weeks after her basketball career was put on hold by a knee injury, Mill Valley senior Becky Newhouse's hoop dreams got back on track Wednesday, April 8, when she signed her letter of intent to play for Johnson County Community College.
Walking with only a slight limp nearly four weeks since having surgery to repair a torn anterior cruciate ligament in her right knee, Newhouse wore a constant smile as she chatted with friends and family who packed the MVHS media center to celebrate the occasion.
"It feels really good because this is what I've always wanted is to go on and play sports in college and further my career," she said. "I'm just really excited, and I'm glad I can play at least a couple more games."
Since the beginning of the recruiting process, Newhouse knew she wanted to stay close to home so her parents and grandparents could watch her play. She said she looked at a few other junior colleges, but her heart always had been set on JCCC. She gave a verbal commitment to the Cavaliers in November.
The Newhouse-led Jaguars were in first place in the Kaw Valley League almost the entire season, but slipped to second place after her injury with one week to go in the regular season.
A true point guard, the 5-foot-7 floor general paced the Jaguars with averages of 10.3 points, 5.4 rebounds, 4.5 steals and 4.1 assists per game to go with just 2.3 turnovers per contest. Even after the injury, MVHS coach Diana Krull continued to field phone calls from schools interested in Newhouse. The biggest of them, Krull said, were NCAA Division II Fort Hays State and NCAA Division I Siena.
Krull said she wasn't surprised to hear from bigger schools, noting that Newhouse could've posted bigger offensive numbers had she chosen to shoot more.
"I'm looking forward to going and watching her play (next year) because I think there's so much upside to her. I still don't think she's reached her full potential," Krull said. "What she's done with the hard work that she's put in during the summertime, in the offseason, has done good things for her, but I think she still has more to her package than even what she's showing, and she had some huge numbers this year."
As evidence of that claim, Krull points to a victory over Turner in early February when Newhouse tallied a stat line of 11 points, 10 rebounds and 13 steals for the first triple-double in program history. She also had five assists in the game.
"It's even hard for the pros to do. It's just extremely hard," Krull said of the triple-double. "That's another thing just to tell you that she can do it. Honestly, she's five assists from a quadruple-double. If she wanted to she probably could've done that, too, but in that game she sat a lot unlike most games where she plays the whole time."
Newhouse said she looks forward to playing at Johnson County. She plans to study sports kinesiology, and she hopes to eventually continue her playing career at a four-year school.
For her part, Krull said she's simply excited to see Newhouse back on the court doing what she loves.
"I'm just so glad that it worked out for her," Krull said. "As a coach, that's the last thing you ever want to have happen to one of your players is to go down with a season-ending injury, but Becky's one of those kids that something like this isn't going to stop her. She's going to get back up and she's going to be even better than she was."