Zoellner resigns from
USD

232, takes top job in Louisburg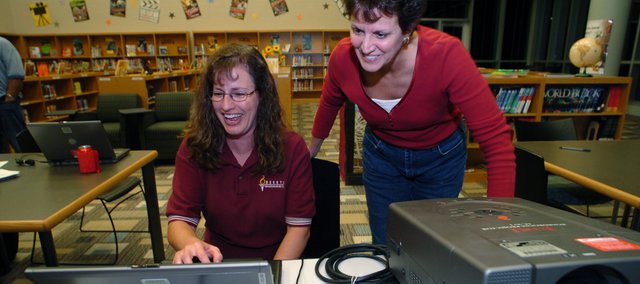 Related document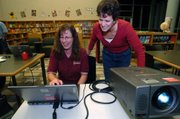 A special meeting Friday morning of the De Soto USD 232 Board of Education ended with the board accepting the resignation of Superintendent of Schools Sharon Zoellner. Later in the morning, Zoellner was hired by Louisburg USD 416 as superintendent.
In Louisburg, Zoellner will succeed Rick Doll, who recently accepted a position as superintendent in the Lawrence USD 497.
Alvie Cater, De Soto district's communication director, said Zoellner's resignation was effective June 30. She begins July 1 in Louisburg.
Cater said the Board will begin developing a plan of action to find new leadership. The Board meets again at the regularly scheduled meeting at 6 p.m. May 4 at District Administrative Building.
The Board will begin the process of developing a plan of action to find new leadership. It will meet again on May 4, 2009, at its regularly scheduled meeting at the Board of Education building, 35200 West 91st Street, De Soto, KS
De Soto USD 232 board members went into executive session to discuss non-elected personnel at the start of the early-morning meeting, which lasted roughly a half an hour. At the conclusion board members accepted the resignations of three administrators, including Zoellner.
Board members Jim Thomas, Bill Fletcher, Randy Johnson and Larry Meyer attended in person, while Janine Gracy, Tim Blankenship and Don Clark attended via phone.
In the closed session, Zoellner submitted her letter of resignation to the board. When the board returned to public session, Zoellner's resignation was accepted on a 6-1 vote, with Thomas in dissent.
Zoellner came to the district in August 1989 as principal of Countryside Intermediate Elementary. In February 1993, she was named district director of finance and student services. Promotions to assistant superintendent and deputy superintendent followed. In 2003, she was named to replace her longtime mentor, Marilyn Layman, who had retired.
In May 2008, Zoellner accepted a new, three-year contract for the De Soto post. The contract set a base salary of $161,429 per year with fringe benefits and reimbursements. Those benefits included 25 days paid vacation, $630 per month for automobile reimbursment for travel within the distrct, a communications allowance of $135 per month for cell phone and Internet services.
Zoellner earned her doctorate in educational administration from Kansas University and a masters from Emporia State. Her undergraduate degree is from Central Methodist College in Fayette, Mo.
In a letter to the community Friday, Zoellner expressed her concern about recent actions by the De Soto board.
"It is my professional opinion that the Board is now moving in a direction that is diametrically opposed to what is best for the students, staff, and patrons of this school district," her letter said.
Zoellner said she was committed to working with the board over the next several months to ensure a smooth transition. She said she also would make herself available to the new leadership team so the district moves forward without disruption.
"These last 20 years, six as Superintendent, have been the most rewarding of my professional career. It is the wonderful people with whom I have been able to work that mean so much to me," the letter said.
The board also accepted the resignations of Bret Church, executive director of teaching and learning services, and Susan Sipe, director of special services.
Church's resignation was accepted with a vote of 6-1 with Meyer in dissent.
The board accepted Sipe's resignation with a vote of 5-2 with Thomas and Meyer in dissent.
Church and Sipe's resignations also are effective June 30.
Zoellner was present at Friday's meeting, but did not attend the executive session. Church and Sipe were not present at the meeting.
Friday's resignations, coupled with several previously announced resignations, leave the De Soto district with several key positions to fill before the start of the new fiscal year on July 1. At the board's April 20 meeting, it was recommended the superintendent create and advertise for two new administrative positions. The two positions, associate superintendent of education services and associate superintendent of business and operations, will be salaried through the contingency reserve funds.
Also at the April 20 meeting, the board recommended the nonrenewal of contract for director of policy and research, Joe Vitt. At a special meeting April 13, the board accepted the resignation of Mill Valley High School principal Joe Novak. Novak has worked in the district for 20 years. He will continue to work part-time as a leadership consultant within the district.
Check back at shawneedispatch.com and desotoexplorer.com for updates to this story, and read more about the story in Wednesday's edition of The Dispatch and Thursday's Explorer.
More like this story