KU

mourns Shawnee freshman found dead outside scholarship hall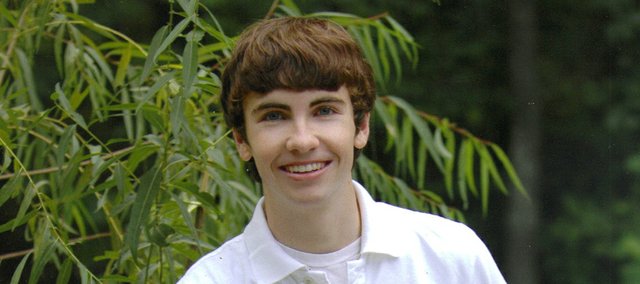 Friends and fraternity brothers mourned on Friday the loss of Dalton Eli Hawkins, an 18-year-old Kansas University honors student from Shawnee.
Hawkins, 18, was found dead on the ground Friday morning outside Watkins Scholarship Hall. KU officials said there were no signs of foul play in the incident.
Hawkins lived in Ellsworth residence hall and was a member of the Alpha Kappa Lambda fraternity at KU.
Chris Schaadt went to Shawnee Mission Northwest High School with Hawkins, and lived in Ellsworth with him. Schaadt said Hawkins would often serve as a mediator between friends.
"He was just the nicest guy," Schaadt said. "Everybody loved him."
Keenan Soto, a sophomore and vice president of the KU Alpha Kappa Lambda organization, said he'd only known Hawkins for the couple of months he'd been in the fraternity, but said he had "a good head on his shoulders," and described him as an outgoing, friendly person.
Soto said the fraternity was a colony at KU, and was working to gain enough membership to be considered a full chapter.
On Thursday night, Soto said Hawkins accompanied other fraternity members on a bus trip to go see a Kansas City Wizards game. He said there had been some drinking on the bus as it left for the Wizards game, but that the group didn't do any drinking during or after the game. The bus included members of other fraternities, and Soto said he was sitting near the front, and said he couldn't tell who exactly was drinking.
The bus arrived back at the Lied Center around 10:15 p.m., Soto said, and the last time he saw Hawkins was when he was walking back to Ellsworth Hall.
"He was absolutely fine," when he returned, and no other fraternity brothers saw him after that.
He said he didn't know of any reason why Hawkins would have been at Watkins Scholarship Hall, which is home to 49 women, and is near Fraser Hall. The fraternity is continuing to try to piece together what happened during the rest of the evening, Soto said.
According to a statement released Friday afternoon, there was a report of a fire exit door window on the back of the hall being broken. As part of the continuing investigation, police will attempt to determine whether the two incidents are linked.
Through a family friend, members of Hawkins' family declined to comment on Friday.