Wanted: Homes needing repair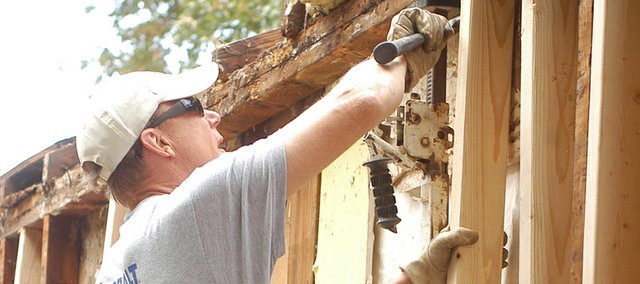 One charity needs help finding people in need.
It may sound strange, but Rebuilding Together Shawnee, a group that helps homeowners repair and rehabilitate their homes, is struggling to find more people to help. While the organization has the funding and plenty of volunteers, successfully repairing seven homes last year, finding people to help this year has been surprisingly difficult.
Paul Arnhold, spokesperson for the group, said it has five homes it is planning to work on for the organization's spring projects on National Rebuilding Day in April. But the group would like to work on as many as 10 homes this spring and needs more applicants.
"I guess that's really our current battle, and it's surprising," Arnhold said. "We've gotten funding. I think if you'd asked us all back in 2007 when this started, 'What do you think is going to be our biggest challenge?' I would have definitely said funding. But it's really been getting in touch and reaching those homeowners."
Finding the homes sooner rather than later is necessary so the group can meet with the homeowners and adequately plan for what needs to be done.
To apply for assistance from the organization, applicants must own their home and have homeowners insurance. They must also provide proof of the gross income for each person residing in the home. Homes are selected on a case-by-case basis.
Arnhold said the group had been working to get out in the community in different ways, finding some homes through Shawnee's codes department and the county's appraisal office. He said the group might have been relying too heavily on its Web site, rebuildingtogethershawnee.org, as a source of applicants.
"We're all so focused on hitting people through the Internet and those kind of means, but a lot of the folks we've helped have been elderly and don't really use the Internet, or are low income and don't really have access to a computer," Arnhold said.
That's why the group is turning to more grass-roots efforts, most recently sending letters to clergy of local churches, asking if anyone in their congregations might need home repair assistance.
One factor that may help the organization with visibility and awareness is it's new office in downtown Shawnee. The space serves as a home for the group's board meetings and storage for brochures and files. The group also has needed storage for its in-kind donations of items like lumber and paint.
"This really allows us long-term to take more of those type of items in," Arnhold said, explaining that previously, the organization has had to store donations in people's garages or homes. "We've now got a secure and approved space to store rather than taking up someone's personal storage space."
But the important factor, given the group's current predicament, is to have a bigger presence within the city.
"People seeing our logo and seeing our name, that helps us," Arnhold said.
Though the applicants may be lacking, Arnhold said it's not yet time for Rebuilding Together to branch out beyond Shawnee, which the organization plans to do once it is better established.
"I think our team feels like there's still a number of people in Shawnee that are in need — not that we'll ever be done working in Shawnee," Arnhold said. "And long-term we will start spreading out into Johnson County. But we're concentrating on getting us up and running a couple more years before branching out."
Rebuilding Together Shawnee can be contacted at 248-2802.