5 Questions: Proposition K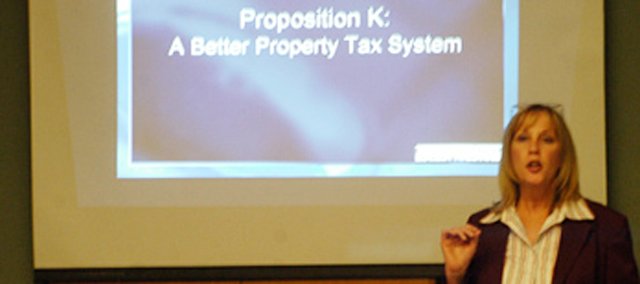 Editor's note: This story contains additional information compared to the published version.
Sen. Mary Pilcher Cook, R-Shawnee, organized an informational meeting Feb. 2 for the Northwest Johnson County Republicans at the Shawnee Library about Proposition K, a proposal to change the state's property tax structure. More information can be found at propositionk.org.
Q: Why is Proposition K necessary?
A: Over the past 10 years, property tax collections in Johnson County increased 112 percent, while adjusted gross income grew only 54 percent and population rose 26 percent. Kansas citizens are literally being taxed out of their homes.
Statewide, property taxes are up 83 percent. In the same time period, the Kansas population is 7 percent, so increases are not driven by a need to produce a lot more services. It's not inflation either; the consumer price index averaged about 2.5 points per year in the last 10 years.
Of the two components — mill rate and property valuation — it is the valuations driving the tax increases. Mill rates have increased only about one point per year on average, but valuations are up 66 percent. The two parts moving together compounded over 10 years have generated an 83 percent tax increase, and our ability to pay can't keep up when valuations are outpacing adjusted gross income.
You've heard local elected officials claim your tax rate was not increased — however, runaway valuations have driven enormous tax increases.
Q: How would it change property taxes?
A: Tax valuations and county appraisers would no longer be required, and it would not change the Kansas Constitution.
1. Establish baseline value for each property — every property would adopt its appraised value as of Jan. 1, 2010. The appeal process would remain, without a county appraiser, and a protest could still be brought forward.
2. A fixed 2 percent annually adjusts the value — properties never revalue unless the improved value is substantially improved, i.e. adding square footage. New owners inherit the baseline value and there is no revaluation.
3. Adopt a square foot value for new construction — all houses in a 200-foot radius in a city, and a 1,000-foot radius in a county/rural area. New construction would have the same value as the average of all their neighbors.
Q: How was it developed?
A: Dr. Art Hall, from the Center for Applied Economics at KU, did extensive studies around the country, looking at the various types of state property tax policies. He identified what works, what policies should be avoided, and put together Proposition K for Kansas.
Q: Would it hurt local governments?
A: This new structure is designed so local governments can maintain complete independence and it gives them a predictable revenue stream. Nothing prevents the raising of revenue, as there is no mill levy limit. If elected officials want more taxpayer dollars, they must raise the mill levy.
Q: What is Proposition K's progress in the Legislature?
A: Rep. Steve Brunk, R-Wichita, introduced the bill, HB 2150, in the House of Representatives Jan. 28, 2009, and it was referred to the House Taxation Committee. Track its progress at kansasvotes.org.