Birth of a program
Depth makes St. James a force on wrestling mat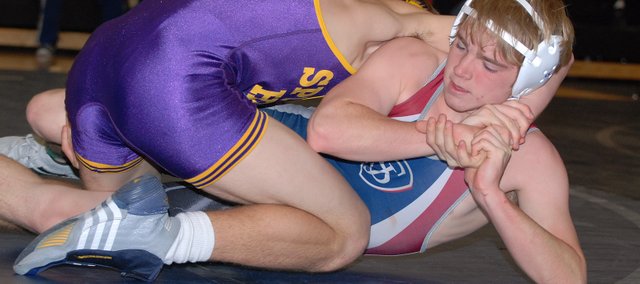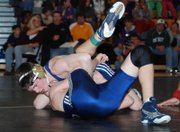 A year ago St. James Academy was a one-man army with then-freshman Ryne Cokeley as the Thunder's lone true threat on a weekly basis.
Things are vastly different this season.
Cokeley's still a force to be reckoned with — he's undefeated and ranked No. 1 in the state in Class 4A at 130 pounds — but now when he goes to tournaments he has plenty of help.
The Thunder have built depth in the past year. They still don't have the sort of depth that allows them to fill all 14 varsity weight classes and have backups to spare, but they routinely have multiple medalists at tournaments and are quickly proving that they can hold their own with some of the state's larger schools.
"We've come a long way from last year," Cokeley said after winning a gold medal at the Johnson County Classic on Dec. 20. "Last year it was only me placing. I got second here last year. Having two more kids place … that's awesome. That's a big step from last year.
"We're definitely getting better and better every year. On team points we've scored about three times as many as we have the year before."
St. James was one of just three Class 4A schools in the 20-team field at the Johnson County Classic, but the Thunder finished in 11th place amid mostly Class 5A and 6A schools. They accomplished that feat with just eight wrestlers competing. Sophomore Taylor Moeder joined Cokeley as a tournament champion by winning the 112-pound weight class.
"I expect to come into every tournament and win," said Moeder, who also has a first-place finish at the Shawnee Mission Northwest Cougar Invitational and a runner-up finish at the Gardner-Edgerton Invitational to his credit this season. "It's pretty important (to win this tournament), but there's a lot more of this season to go. I've just got to keep doing this week after week and get my name out there more."
Freshman Rory Haug also medaled at the Johnson County Classic, finishing third at 119. And, Cokeley noted, freshman 145-pounder Cole Cannon missed the tournament with an injury. Had he been healthy he was expected to be in contention for a medal as well.
For fourth-year St. James coach Mike Medina, the progress of the program has been satisfying to witness.
The trio of medalists at the Johnson County Classic was the program's biggest stamp yet on the local wrestling scene, but Medina pointed out that the team's improvement extends far beyond the three medalists. Of the eight wrestlers St. James brought, some moved up from the junior varsity squad just for this tournament. Still, each one of them won at least one match.
"Every single kid came in and scored a point, and that's what has been so important for us is everyone scoring points," Medina said of the team's overall success. "We always talk about 'together each accomplishes more.' And the boys have been working real hard. They did the preseason (workouts). They show up in the morning for weights. They're practicing hard and it's coming together. I'm really looking forward to second semester."
The second semester won't get any easier for St. James. On Jan. 9-10 it will travel to Derby for a tournament. Then it will compete Jan. 16-17 at the Bobcat Classic at Basehor-Linwood High School in what is regarded as one of the toughest tournaments in Kansas. Tournaments at Holton, Garden City and Shawnee Mission North round out the regular-season schedule. All of it is preparation for what St. James hopes will be an even bigger postseason splash by late February.
More like this story