Facility adds punch to family fitness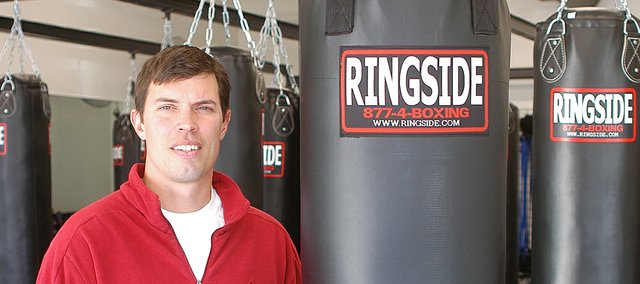 In Shawnee's newest fitness facility, the dominant features are the 34 punching bags hanging from a massive rack, boxing gloves hanging on the walls and even a boxing ring in the back.
But this isn't Mickey's gym from the "Rocky" movies, with hardened fighters training for the next big match. According to Brad Goetsch, owner, Punch Boxing + Fitness, 5435 Roberts St., is a lot more about families than right hooks and black eyes.
Boxing and kickboxing may be a big part of what makes the fitness facility unique, but with classes for children ages 8 and up, Goetsch said the business's goal is to get the whole family involved in fitness.
"We're not your standard fitness center from that aspect," he said. "I haven't seen many gyms that offer classes for kids under 12 every day."
Punch Boxing is the first business to open in the new buildings north of Walgreens in the Woodsonia West shopping center, and its opening day was Sunday. The center will offer express, one-hour workouts taught by certified boxing and fitness instructors, with classes to include boxing, kickboxing, interval conditioning, yoga and strength training. All classes are included in the price of a membership to the facility.
Immediately catching the attention of all who enter is the boxing ring at the back of the facility, with a black and white photo of a local boxer's fight covering the back wall as a back-drop, and the class area holds 34 punching bags designed to host group boxing fitness classes.
Goetch said though the ring will be used sometimes for classes, its main purpose would be for personal training, private boxing lessons and a youth boxing training program that he hopes to have up and running by the end of the month.
But it isn't all boxing. The facility also has a mat area for anything from yoga classes to martial arts instruction and wrestling. A free-weight equipment area and another area for cardio equipment like ellipticals and treadmills take up much of the facility's eastern side.
The facility sells all the equipment boxers need, but they also loan out gloves to those taking their first classes. The business offers a seven-day pass to new clients to come and check out classes before joining.
Which is why Goetsch said anyone looking to get in shape shouldn't be intimidated by notions of boxing as violent.
"That's the way my wife was before she went to her first boxing class," he said. "But once she got into it, she loved it. If you come here, you're not going to be hitting people or getting hit."
A Shawnee resident, Goetsch has been in the fitness industry for 18 years and has always wanted to have his own club. After a career of opening fitness centers for others, he said he wanted to bring an innovative fitness opportunity to the Shawnee area.
Goetsch believes boxing to be one of the best total body workouts, working upper, lower and core muscles, burning 800 to 1,000 calories an hour. He said it's also a great way to get children into fitness, learning from trained instructors.
"The whole goal is to expose them to a sport that is really a safe sport," Goetsch said.
Youth classes will be held daily after school and are included in the price of a family membership. Since the facility's instructors have various backgrounds from classic boxing to martial arts, youth classes will cover a wide spectrum of fitness techniques.
"It will make sure they stay interested and they're really starting to establish a lifetime habit," Goetsch said.
Goetsch said he is interested in taking the concept to other areas and is looking into opening another location by the end of the year.
"Definitely, this being the first of many would be great," he said.
The facility offers classes from 5 a.m. to 9 p.m. Monday through Thursday, 5 a.m. to 8 p.m. Fridays, 8 a.m. to 2 p.m. Saturdays and 12 to 5 p.m. Sundays.
For more information, visit punchboxingandfitness.com.