Park board approves sharpshooter plan to cull
SM

Park deer herd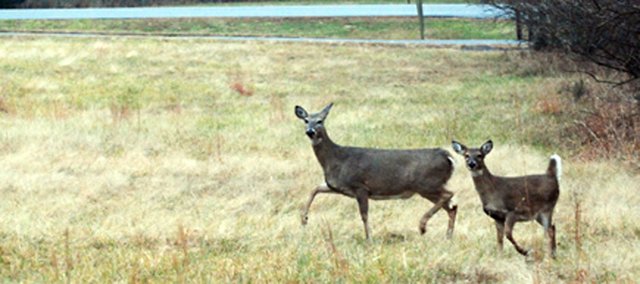 Sharpshooters will be used this fall to cull the deer herd in Shawnee Mission Park.
This was the unanimous decision Wednesday of the Johnson County Park and Recreation District board of commissioners, which approved district staff's recommendation to train park police and possibly municipal police officers to conduct a sharp-shooting hunt in the fall. The decision came after 28 members of the public made statements before the board, both in favor and against the staff-recommended plan.
Michael Meadors, director of the district, said there was about $50,000 available to cover any costs incurred for the hunt, which would include training the officers and setting up deer stands. Sharpshooters would hunt the deer one or two days a week over four to six weeks, only in the early mornings and only in restricted areas of the park. The staff-recommended plan is available at jcprd.com
The goal would be to reduce the deer population to 50 per square mile in the two-square-mile park, still above the 30 state officials have said is the usual population per square mile in rural areas. State surveys in 2007 and 2008 estimated the current population in the park at 200 deer per square mile.
After the hunt, a population survey would be performed, and it the population is still too high, the park would allow certified bowhunters to hunt in restricted areas in late December or early January of 2010.
Of members of the public who spoke, eight were against any type of hunt taking place. Others said they were against the bowhunting, either citing public safety concerns or saying they thought the method was inhumane. Some fully supported the plan but thought the district could find resident hunters who would perform the hunt for free, rather than the county having to pay officers for their time.
Watch for more information about the board's decision at shawneedispatch.com.