Track and field powerhouse Arkansas inks Mill Valley's Carroll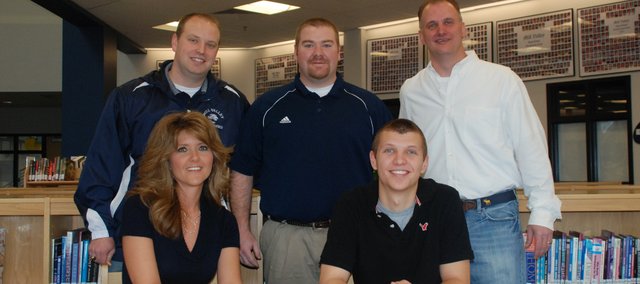 Considering basketball was Max Carroll's first love athletically, it was only fitting that his hoops coach provided the guidance that ultimately led to Carroll earning a scholarship to throw the javelin for national powerhouse Arkansas.
"Coach (Justin) Bogart actually told me to go out for track," Carroll said shortly after signing his letter of intent with the Razorbacks on Feb. 26.
Carroll was reluctant to join the track team during his freshman year at Mill Valley High School, but when basketball season ended Bogart told Carroll it would be a good idea to do track as a part of his offseason conditioning.
Carroll wanted to please his basketball coach, so he heeded the advice.
Carroll went on to have a standout career on the basketball court at Mill Valley. He earned All-Kaw Valley League honors twice for his play on the hardwood, but his greatest successes came in track.
Carroll doesn't remember it being so easy at first.
"My very first throw was like 110 feet," he said with a laugh.
By the end of his freshman season, however, Carroll had reached 150 feet and was already turning heads.
"I knew then that if I put the time in, I was sure I could do something with it," he said.
Throughout the next few years, Carroll worked at mastering his technique with Mill Valley coaches Chris Dunback and Cory Wurtz. Unlike many top-tier high school athletes, however, Carroll didn't spend his summers attending camps with college or professional coaches. Instead, he remained a purely home-grown talent, sticking solely with his high school coaches.
"It's all been born and raised here at Mill Valley," Carroll said of his throwing talents. "They know what they're doing. Coach Dunback and coach Wurtz are phenomenal. They both know what they're doing. Coach Dunback threw at KU in college and I figured he knew what he's doing, so I'm going to trust him and coach Wurtz more than anyone else."
Dunback said the bulk of his javelin knowledge comes from his friend, former KU teammate and 2008 Olympic athlete Scott Russell.
Dunback described Carroll as being very coachable and eager to improve, but he said Carroll also was blessed with a lot of natural ability.
"Max has the luxury that not many kids have — he's got a cannon," Dunback said. "We've talked about it a lot in terms of there's some things we'd like to change and fix, but what it boils down to is if the kid's got a cannon and we can get him in the right positions, he's going to do fine. Some people have it and some don't, and that's where his potential is very high."
As a sophomore, Carroll qualified for state but didn't medal. He continued to improve as a junior and finished fifth at state with a toss of 165 feet, 5 inches. His season- and career-best was 189-7, just three inches off the school record of 189-10 that Andrew Wendorf set in 2007.
After the state meet, Carroll began sending out recruiting information to prospective schools. Among the respondents, he was surprised to see Arkansas.
"Luckily my grades were pretty good, too, and that kind of sparked something," Carroll said.
Soon, Arkansas throws coach Dick Booth came to visit Carroll at home.
"He brought a plaque of every (national championship) ring that they won," Carroll said. "It was just this huge, huge plaque with like 42 rings on it. It was ridiculous."
Carroll made a campus visit in October and was impressed with the facilities.
"They were obviously the best I've seen," he said. "It was a nice environment and not too far from home, so it seemed like a good fit.
"I knew once I was down there that this is where I could see myself."
With his decision made and his college plans set in stone, it'd be easy to think Carroll might relax and take it easy during his final high school season. Instead, he said the pressure is on.
He wants to break the school record, throw about 210 feet and compete for a state championship.
"I'm going to this school that's known for track," he said. "I've got to go in there with some good things going on."