Fifth-grade lessons help build foundation for science success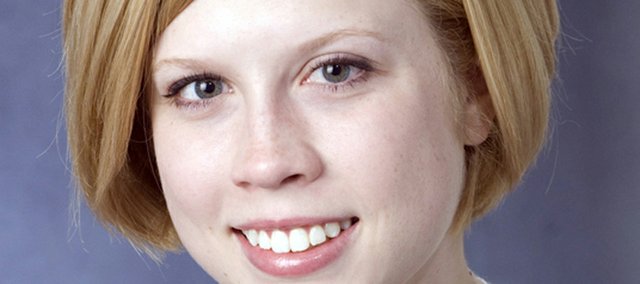 Stephanie Hill's love of science can be traced to her elementary school days, when her fifth-grade teacher introduced her to "Bill Nye the Science Guy."
Now a senior in chemistry and biochemistry at Kansas University, she has been recognized as the Sally Mason Outstanding Woman Student in Science. Hill was given the award April 21 as part of the Emily Taylor Women's Resource Center's annual Women's Recognition Program honoring outstanding women in the KU community.
Hill is the daughter of Douglas and Mary Hill and is a Shawnee Mission Northwest High School graduate. She said her fifth-grade teacher, Georgia Smith, sparked her scientific interests with the experiments she used to teach the scientific method.
Years later at Northwest, a nonchalant decision helped Hill find the subject that would become her major at KU.
"In high school I took Chemistry II/AP for no other reason than I didn't want to take physics," she said. "I wound up absolutely loving the subject and reading the textbook in my spare time."
It was also in high school that Hill read "Napoleon's Buttons," a book that chronicles the effect that several molecules have had on the course of history.
"It made me realize that everything in our lives is dictated by chemistry," she said. "When I enrolled at KU as a chemistry major, I had no idea what I was getting myself into, but fortunately I have really enjoyed chemistry and have settled into a research field that I could not have even imagined existed four years ago."
She added the biochemistry major as an afterthought, she said, after taking a biochemistry course required for her chemistry major.
"However, I have learned a great deal in my biochemistry courses that will help me in the next phase of my scientific life, and it has given me the excuse to take a variety of unrelated biology courses, such as Pathogenic Microbiology and Immunology," she said.
After she graduates, Hill will start her Ph.D training and research in a joint program between the U.S. National Institutes of Health (NIH) and the University of Cambridge in England known as the NIH Graduate Partnership Programs Oxford Cambridge Scholars.
"This is an extremely selective and prestigious program that will fully fund my course of study," Hill said.
Hill will get her start in an area that could relate to advances in the study of serious diseases: She will study the nature and mechanisms of protein folding and interaction with host labs in Cambridge and at the NIH campus in Bethesda, MD.
"Protein folding is not well-known, but its effects are — misfolded proteins are the major cause of neurodegenerative diseases such as Parkinson's and Huntingtons'," she said.
Hill was one of 17 KU women representing students, staff, faculty and alumnae honored for their outstanding contributions and achievements at the recent recognition program. Eight women students received awards for their contributions in athletics, community service, the international community, leadership and science and recognition of their partnerships and achievements as single mothers.
The program also inducted five women into the Women's Hall of Fame at KU, including former Kansas Gov. Kathleen Sebelius.
"I was pleasantly surprised to receive the award from the Women's Center, and it was nice to be recognized for my achievements alongside so many other outstanding women students and the inspiring inductees to the Kansas Women's Hall of Fame," Hill said.
This was the second award Hill has received in the past month. Earlier in April, she learned she received the Class of 1913 award, one of the 10 2009 Chancellor's Student Awards.
The Class of 1913 awards annually go to a graduating man and woman who show evidence of intelligence, devotion to studies, personal character and promise of usefulness to society.
As a sophomore, Hill won a Goldwater scholarship, the premier national competitive award for math and science college students planning careers in research. She also has been published in professional journals twice and has received three Kansas IDeA Network of Biomedical Research Excellence scholarships.
Hill is also a National Merit Scholar, a Chancellors Club Scholar and a Kansas Governor's Scholar. An accomplished violinist, Hill performs in the KU Symphony Orchestra and was a concertmaster with the Kansas City Youth Symphony.