Officer's efforts with homeless family lauded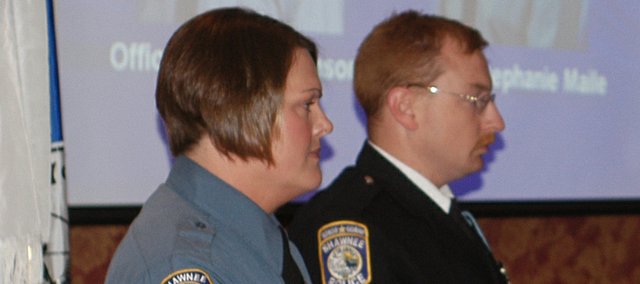 When dispatched to help a homeless family in distress, Shawnee Police Officer Stephanie Maile went far beyond the call of duty.
Her efforts to help that family were part of what earned her the Shawnee Police Department's Patrol Officer of the Year award during the department's annual awards ceremony. Maile and more than 20 other department employees were recognized earlier this month for their achievements in the past year.
Maile received two awards of merit, the first for responding to an apartment complex fire in August and helping an elderly woman escape her smoke-filled apartment. The second was for the aid Maile gave to the homeless family, who came to the ceremony to thank her.
When Maile first responded to the call, the family no longer had a suitable home and the parents had no job prospects. To insure their children were taken care of, they were ready to turn them over to protective custody.
Maile was so impacted by the family's difficult situation, she decided to find a way to keep the family together. She was able to locate a homeless shelter that would take the family of six and provided the children with food before they went to the shelter.
She then arranged a clothing and food drive for the family and helped them find a permanent dwelling. With her own money, Maile rented a truck to deliver the items gathered in the drive to the family's new apartment.
Maile then donated her van to the family, so the parents could have a way to go to work and take the children to school. She assisted them in obtaining current driver's licenses and insurance for the van.
"Officer Maile went above and beyond her call of duty to assist this family in need, and her actions have proved significant in the lives of these citizens," Shawnee Police Chief Jim Morgan said.
The awards ceremony also recognized the following department employees:
• Capt. Bill Hisle, Lt. Jodi Andrews and Sgt. Jesse Perez, who each received a promotion in the past year.
• Officers Mo Loridon and Joe Lawless and interns Laura Lake, Matt Smith, Kyle Stoker and Katherine Swearingen, who received letters of appreciation.
• Officers Shaun Arnold, Joe Mazzei, Shaun Miller, Kirsten Nicolai, Shawn Reynolds, Will Sanderson and Wade Willson and Sgts. Phil Burger and Brent Griffin, who received unit citations.
•  Lt. Dan Tennis and officers Patrick Johnson and Craig Herrmann received awards of merit.
• Officers Shaun Arnold, Kirk Moore and Will Sanderson received medals of valor.
• Sgt. Greg Collins received a special retirement recognition. Collins was forced to retire from active duties due to a medical condition but will continue with the department in a research position.
More like this story