Crumbling kitchen rebuilt for widow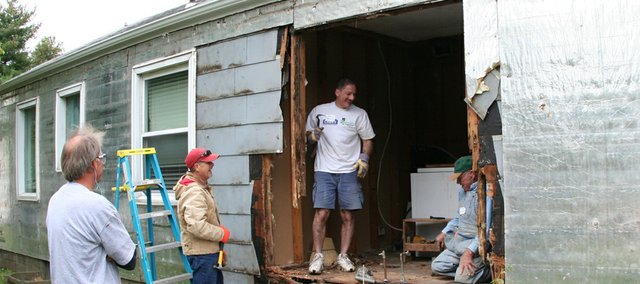 Karen Long wasn't sure what she was going to do.
What had been her kitchen was bare, crumbing space, torn down to the studs with the back wall rotted — and the cost of repairing the damage to her Shawnee home was beyond what she could afford.
"My home group from church, the men were all willing to provide the labor, but I couldn't cover the materials," said Long, a widowed single mother. "We'd have been stuck."
Would have been stuck, that is, had it not been for Rebuilding Together Shawnee, an organization that provides repair and renovation assistance to Shawnee homeowners in need. After three weekends of volunteer work, Long and her two children soon will be able to enjoy using their kitchen again, something they have done without for most of the year. Long's home was one of two projects the 2-year-old charitable organization took on this fall.
Long's situation arose earlier this year when she hired a friend to install new flooring in her kitchen. The friend pulled out the cabinets to do the job and in the process discovered that the back wall of Long's home had rotted beyond any simple repair.
"We apparently had a water leak for about 10 years, and the job became too big for everybody, including my pocketbook," Long said.
A friend told Long about Rebuilding Together Shawnee, having recently read an article about the organization in the paper. Long looked into the agency and filled out the online application in March, though she said she didn't know if she would qualify. A representative of Rebuilding Together Shawnee interviewed her and told her it already had its April projects lined up, but the organization would contact her in the fall.
Long said she wasn't clear if she had been selected or not, so she was surprised when Mike Walberg, leading a team of volunteers from St. Joseph Catholic Church for RTS, called her in July.
"All of the sudden Mike called me one day and said 'OK, we need to come over and see what you need,'" she said.
Making it without a kitchen had been difficult for Long, who recently adopted her two stepgrandchildren, ages 8 and 10. They had to move the refrigerator into the living room and had no use of the stove.
"It had been a good six months without a kitchen, and it looked pretty bad," Long said.
Walberg said this was the third RTS project in which the St. Joseph volunteer group had repaired a rotted wall, so Long's home didn't present too much of a problem for the 35 volunteers that worked on repairs over the past three weekends.
"The thing about our crew is we have such a wide spectrum of skills," Walberg said. "We have three, maybe four, remodeling contractors on our crew. This is actually a smaller project for us."
In addition to repairing the kitchen, the RTS volunteer team put new insulation in other areas of the house, installed ceiling fans, installed new carpet in one room and new cabinets in the laundry room, put new siding on the back of the house and even did some landscaping.
"I'd planned to spend less than $1,000, and you're looking at a $10,000 or $15,000 job they're doing," Long said.
Even though the kitchen cabinets had yet to be installed, Long was appreciating the new look of the room Saturday.
"I've been sitting here just admiring that window; that's so attractive," she said. "For the last six months I've been looking at a plastic sheet, so I'm amazed by it."
Long said she was grateful for the existence of a local organization that could help homeowners in need.
"I think it's a good thing for people to know about, that this is out there," Long said. "In this world of me, me, me, to have people out there willing to help like this" is wonderful.
Rebuilding Together still has spaces available for National Rebuilding Day projects on April 24, 2010, and is accepting applications. An application form can be found at rebuildingtogethershawnee.org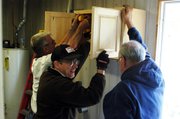 Contact the organization at 248-2802.