Shawnee Town plans still on track
Despite concers, Council OKs process for enhancements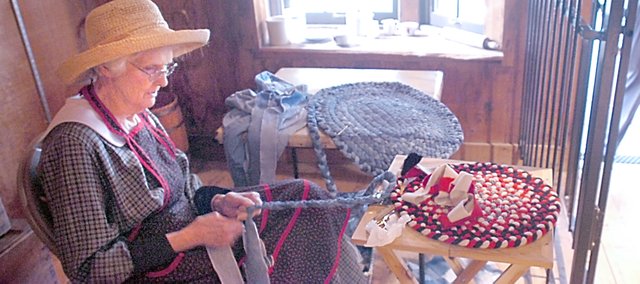 Some Shawnee City Council members are casting doubt on moving forward with planned improvements at Shawnee Town Museum.
The Council on Monday unanimously approved using a design-build selection process for contractors in the creation of a farmstead and further development of the town site at Shawnee Town. But the item led to a discussion of the benefits of improving the city's top attraction at a time when it is necessary to be frugal.
Council member Cheryl Scott moved to approve the design-build process for the $897,000 project. Plans include moving the historic Hart Home, Bender Barn and smokehouse to create a farmstead area, and in the town, building a doctor's house, typewriter repair shop and ice house, as well as refurbishing other old buildings.
The work will be funded over two years through a combination of public and private funding: $200,000 grant from the Ronald Deffenbaugh Foundation; and the Special Park and Recreation Fund, which includes liquor tax receipts that, by state law, can only be used for park and recreational purposes.
But Council member Kevin Straub questioned the expenses, asking if there was any way the city could recapture the money once the improvements were complete.
"That's a lot of money to be spending on, and I know Old Shawnee Town is a phenomenal place, but… This is definitely not a have-to," he said.
Straub acknowledged the funds used to pay for the project could only be used on parks projects, but he thought maybe it would be better to be "frugal" and push off the improvements.
Neil Holman, director of parks and recreation, said there was no way to prove the museum's revenues would improve with the improvements. However, he said all of the community branding project research, as well as other surveys, had shown that the museum was Shawnee's most identifiable attraction, and the city could justify charging more for admission once the museum was improved.
"I get e-mails all the time that ask 'Why can't we have a Deanna Rose (Farmstead, in Overland Park)?'" Holman said. "And we will have one with this. We will have a wonderful, open-air museum. This is going to be a one-of-a-kind museum down the road."
He noted Shawnee-based firms have been giving the city lower-than-expected bids for projects in this economy, so the city hoped to see a cost savings by moving forward with the plan now.
Council member Michelle Distler asked how the additions would affect costs of running the museum. Holman said it likely would lower the upkeep costs, since many of the aging buildings have maintenance problems.
Council member Dan Pflumm asked why more of the work for the museum couldn't be done in-house, and Burt Schnettgoecke, city project engineer, said city staff engineers didn't have the expertise to do the work for most of the project. Schnettgoecke said the city could ask design-build teams to provide costs for the farmstead and town site separately, if Council members were concerned about costs.
Teresa Conner of Shawnee and Greg Rieke of Overland Park also spoke on the museum's behalf.
"To be on the cusp of going forward and have it stalled would be very disappointing," Conner said. "… It would be a great competitive edge to neighboring cities. We're always looking for more tourism, and this would put us at forefront."
In the end, the Council unanimously approved the design-build process.
In other business, the Council:
• Approved 7-1 a Community Improvement District policy, removing language that would allow developers to make use of city-issued general obligation bonds. Council member Michelle Distler voted in opposition.
• Approved the final study drafts of the Interstate 435 Corridor Land Use Analysis and Market Study.
• Approved vacating right-of-way at Shawnee Mission Parkway and Widmer Road for a new CVS Pharmacy.
• Approved use of the design-build selection process for the Justice Center stormwater quality BMP (best management practices) retrofit project.
• Approved a contract for $124,596.50 with Heartland Midwest LLC, Olathe, for the Northwest Woods storm drainage improvements.
• Adopted a resolution for the Johnson County Multi-Hazard Mitigation Plan.
• Approved a resolution to extend a resolution of intent to issue private activity revenue bonds for Stag's Grove LLC.
• Conducted a public hearing and approved the 2010 Community Development Block Grant application and 2010-2014 five-year annual plan.
• Approve a massage establishment license for Rein Spirit Massage, 12400 W. 62nd Terr.
• Approved withdrawal of a special-use permit previously issued to Precision Services, 10820 W. 64th St., to allow a noninventory auto brokerage.
• Approved a special-use permit to Jennifer Fuller for an in-home day-care in the 23217 W. 46th St.
• Approved an ordinance repealing Title 17 Chapters 17.48 and 17.64 of the municipal code, which have been moved to Title 11.
• Approved semimonthly claims totaling $2,189,762.