Clear Creek kindergartner 'Artist of the Week'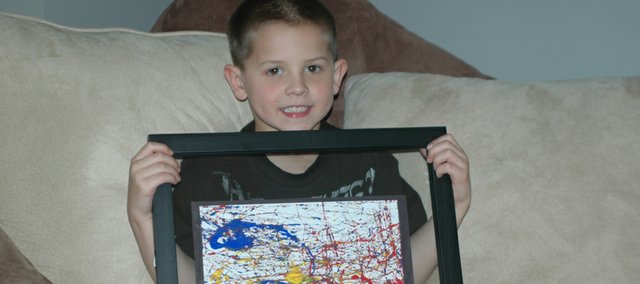 Clear Creek Elementary School kindergartner Caleb Schmitz has received fame most artists his age can't comprehend.
For the week of April 4-10, Caleb was the featured Artist of the Week for prekindergarten to third-grade students on Artsonia, an online art museum.
Caleb mixed his favorite color of red with blue and yellow to create the marble painting that earned him the recognition.
Shelley Arbugh, kindergarten specials teacher at Clear Creek, said students put marbles in paint then rolled them around on top of paper in a container to create a design of their choice.
Each month, the Clear Creek PTA uploads photos of student art to the Artsonia Web site, said Vonda Norman, a PTA member.
While the purpose of Artsonia is to allow families to view their child's art, it also serves as a fundraiser for the school.
"Parents sign up their student at the beginning of the school year and create a fan page of family and friends on the Web site," Norman said. "Each time a piece of art is uploaded, an e-mail is sent to the people on their fan page."
The artwork can be translated to mugs, T-shirts, hats and other merchandise for purchase. Fifteen percent of all merchandise purchased goes back to the young artist's school, Norman said.
Each week, Artsonia choses about five students from different age levels to be voted as the Artist of the Week.
Meloni and Eric Schmitz, Caleb's parents, received an e-mail the week of March 28 telling them Caleb was in the running for artist of the week.
"We had a week to vote," Meloni said. "We got a hold of everyone to go online and vote. We called friends and family and asked them to help. This is the first time a student from Clear Creek was chosen."
The online museum, which features artwork from across the world, allows a level of anonymity. Student profiles are created with the students' first name and a number.
As part of the recognition, Caleb received a $50 gift card for arts materials and a plaque, while Clear Creek's art department received a $100 gift card for arts materials.
Caleb said he liked having his art on display for others to see.
Arbugh said students feel proud when they see their artwork displayed on Artsonia.
"They feel like they are true artists when they see their pictures," she said.
This is the first year the Clear Creek PTA has used Artsonia, and Norman said she expects it to continue in the future.
"It's a great fundraiser in this economy," she said. "So far we've raised $500 and posted more than 1,800 pieces of artwork."
The fame hasn't seemed to faze Caleb.
He's just excited and ready to make more art, he said.